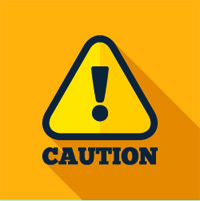 A lot can happen to your furnace or boiler while you're not looking. Regular maintenance including changing filters and cleaning your heating system can prevent a lot of issues, but problems can still occur with little warning.
A cracked heat exchanger is a serious and dangerous problem that requires immediate attention. And while an inspection from a certified technician can determine if you have a cracked heat exchanger, it's important that you are able to identify the symptoms on your own.
Abnormal flame: The flame on your furnace or boiler should burn with a steady, clean, blue flame. A flame that dances or jumps may indicate a leak in the heat exchanger, and so can a yellow- or orange-colored flame. These issues become more likely as equipment gets older, so inspect the burner periodically to make sure the flame appears normal.
Soot buildup: Improper combustion causes soot buildup, and there can be a few different root causes to this problem, but a cracked heat exchanger is one of the most serious. If the heat exchanger is cracked, you will notice black soot buildup on the internal components of your furnace or boiler near the location of the crack.
High carbon monoxide levels: One of the reasons a crack in a heat exchanger is so dangerous is that it can cause your furnace or boiler to leak carbon monoxide, a dangerous and potentially deadly gas that is colorless and odorless. Every home should have carbon monoxide detectors installed, including one near the location of your furnace or boiler. If the alarm goes off, leave your home immediately and call the fire department.
Visible cracks or rust: If you can see cracks or rust on the metal components of your furnace or boiler, contact a professional technician and schedule your system for an inspection.
To learn more about the dangers of a cracked heat exchanger – or to schedule your furnace or boiler for an inspection  – contact Hartman Brothers Heating and Air Conditioning today. We've been proudly serving the Fort Wayne area since 1963.
Our goal is to help educate our customers in New Haven, Indiana and surrounding Fort Wayne area about energy and home comfort issues (specific to HVAC systems). For more information about cracked heat exchangers and other HVAC topics, download our free Home Comfort Resource guide.
Credit/Copyright Attribution: "Blan-k/Shutterstock"