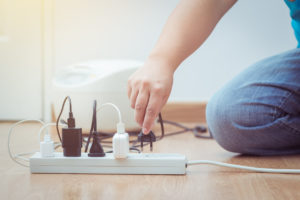 When you think of uses for a surge protector, shielding your computers, televisions and electronics from storm-related power fluctuations might come to mind. While surge protection can protect these costly items, it's also vital to safeguard your appliances and essential equipment like your air conditioner.
What Causes Power Surges?
A power surge occurs whenever there's a brief interruption in the flow of electricity, or electricity is sent flowing back through your home's electrical system. Surges can vary greatly in intensity, from five or ten volts when you plug in a small appliance, to thousands of volts from a lightning strike on a transformer. Surprisingly, only about 20 percent of damaging fluctuations in voltage occur due to outside sources, while the remaining 80 percent originate inside a home's own electrical system. Lightning strikes during a storm are a well-known cause of surges, but these power fluctuations can also happen because of:
Tree limbs touching a power line
Electrical power plant maintenance
Faulty wiring in the home
Aging or malfunctioning electrical components
Normal cycling of household appliances
Why Air Conditioners are Vulnerable to Power Surges
HVAC systems used to be largely mechanical in nature, with few electronic parts. Today's technologically-advanced air conditioners include various electronic components to boost energy efficiency so they're more vulnerable to:
Minor fluctuations in the power supply that result in hard-to-detect internal damage that shortens the equipment's lifespan.
Repeated or more significant surges can lead to a component breakdown that requires costly repairs.
Major spikes in voltage that cause an immediate component failure. If this occurs, a component is often damaged beyond repair and will need replacement, and this kind of damage isn't covered under an equipment warranty.
Surge Protectors Safeguard Your Appliances and A/C From Damage
You can't control when or how often power surges occur, but you can protect your air conditioner by having a whole-home surge protector installed, along with dedicated devices for each A/C component.
To learn more about surge protectors and other ways to protect the air conditioner in your Fort Wayne home, contact us at Hartman Brothers Heating & Air Conditioning.
Our goal is to help educate our customers in New Haven, Indiana and surrounding Fort Wayne area about energy and home comfort issues (specific to HVAC systems). For more information about surge protectors and other HVAC topics, download our free Home Comfort Guide or call us at 260-376-2961.
Credit/Copyright Attribution: "Name"