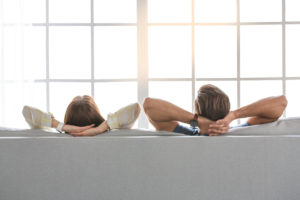 Springtime may seem far away in Indiana in January and February, but it won't be long till allergy sufferers will be enduring the aggravating symptoms that come with flowers and trees bursting into bloom and producing tree pollen. That's one reason why February isn't too soon to start thinking about air purification in your home. Another reason is that February is actually named after a Roman festival of purification called Februa, where people were ritually washed, perhaps in preparation for the new year.
As you get ready for spring, you may want to think about an air purification strategy for your home. Here are some tips for maximizing control of some major airborne pollutants.
Cleaning Up Your Air
1. One of the best ways to clean up your air is to keep airborne pollutants stay outdoors. It takes a bit of effort, but you can begin doing the following:
take shoes off at the door
brush off clothes at the door to remove pollen
bathe and brush pets frequently to remove pet dander
keep windows and doors closed to keep out dirt, dust and pollen
fix leaks to eliminate mold, mildew and fungus spores
2. Another important line of defense is to use a good quality air filter in your HVAC system. Spring or fall, use a pleated filter rated MERV (minimum efficiency reporting value) 8-10.
3. Install an air cleaner. Portable models may help, but have to be moved from room to room. If someone in your household is seriously impacted by pollen or other airborne pollutants, talk to your HVAC consultant about installing a whole-house air purification system. There are several different types of technology to consider, depending on the pollutants you want to control.
4. Vacuum frequently with a HEPA (high efficiency particulate air) filter. Use a damp mop on floors, and microstatic cloths for dusting, to avoid stirring up pollutants.
5. Wash linens frequently in hot water to get rid of dust mites.
Ready to get serious about air purification? Contact Hartman Brothers Heating and Air Conditioning. We serve Fort Wayne and the surrounding area.
Our goal is to help educate our customers in New Haven, Indiana and surrounding Fort Wayne area about energy and home comfort issues (specific to HVAC systems). For more information about air purification and other HVAC topics, download our free Home Comfort Guide or call us at 260-376-2961.