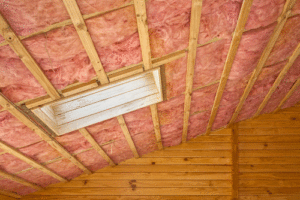 Insulation is a major component of your home's efficiency. It helps keep warm air in its correct place -- inside your home during the winter and outside your home during the summer. While maintaining insulation in your walls and beneath your floor is important, attic insulation is tops for many reasons when it comes to blocking heat movement.
Why Attic Insulation is Important
Heat naturally seeks a cooler space. That's why insulation is so important. Your conditioned air naturally wants to move to a warmer location, whether the heating or cooling months. In addition to saving energy and keeping your living spaces more comfortable, attic insulation also helps prevent ice dams from forming on the eaves of your roof by maintaining neutral temperatures between attic air and outdoor air.
Insulation Materials and Types
There are many insulation materials and types available.
Fiberglass rolls and blown-in insulation are made from glass fibers that are woven together. Fiberglass insulation is a lightweight material that offers a cost-effective return on investment.
Cellulose blown-in insulation is manufactured of recycled pulp. It is treated with fire retardants and offers very good sound absorption and R-value properties.
Like blown-in fiberglass and cellulose, spray foam insulation is installed by your technician using a machine to evenly spread the material.
Best Insulation for Your Attic
Fiberglass, cellulose and spray foam are all excellent insulation materials to use in your attic. The "best" insulation really depends on your needs.
If you simply want to add insulation to your existing insulation, you'll probably want to go with blown-in fiberglass.
If you're taking an "out with the old, in with the new" approach in your existing home, then blown-in fiberglass or cellulose may be your logical insulation material to choose.
Spray foam should probably top your list for insulating new home construction. You'll have more living space since it can be sprayed to your roof, and it can keep your air ducts in the conditioned spaces -- another energy saver.
If you have questions about checking or installing attic insulation, please contact the professionals at Hartman Brothers Heating & Air Conditioning to learn more.
Our goal is to help educate our customers in New Haven, Indiana and surrounding Fort Wayne area about energy and home comfort issues (specific to HVAC systems). For more information about attic insulation and other HVAC topics, download our free Home Comfort Guide or call us at 260-376-2961.
Credit/Copyright Attribution: "travellight/Shutterstock"