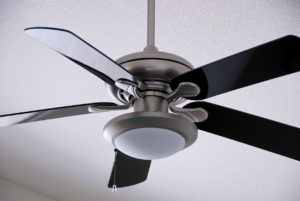 The word "fans" may make you instantly think of the energy and excitement of the Olympics and March Madness, but fans for your home can actually save energy and enhance your comfort.
If that sounds exciting, put sports aside and take your pick of these best household fans:
Floor Fans
There are numerous styles and sizes of floor fans available to suit different situations and needs. Your options include slim, space-saving tower fans, adjustable-height pedestal fans, utilitarian drum or barrel fans, and high-velocity models for maximum airflow output. Most offer multiple speed settings, and different styles have oscillating or tilt capabilities, and features like remote controls, energy-saving settings, and automatic timers.
Window Fans
For extra ventilation during the spring and fall shoulder seasons when running your central A/C isn't warranted, consider a window fan that can fit snugly into different size openings. Most models have dual side-by-side multiple-speed fans that can run independently, and some can reverse operation to draw in fresh air, or send stale air outdoors.
Tabletop Fans
Multi-speed tabletop fans are ideal wherever you need oscillating or targeted cooling airflow. They come in various sizes, and typically have a sturdy base for stability on flat surfaces like a countertop, desk or nightstand. In addition to traditional plug-in fans, there are USB-powered versions, and battery-operated, clip-on models for portable ventilation virtually anywhere.
Ceiling Fans
Operating ceiling fans in occupied rooms can help you save energy and boost your comfort year-round. In the summer, they provide a skin-cooling wind chill effect so you can dial up your thermostat setting. With the blades reversed, fans push warm air back down from the ceilings, allowing you to reduce the temperature setting in the winter. Ceiling fans come in many styles in sizes up to 55 inches, with optional light kits and flexible remote or wall switch controls. For ultra-efficient fans, you can choose Energy Star-certified models that meet the program's strict airflow vs. energy consumption criteria.
For more advice about the best household fans for your Fort Wayne home, contact us at Hartman Brothers Heating & Air Conditioning.
Our goal is to help educate our customers in New Haven, Indiana and surrounding Fort Wayne area about energy and home comfort issues (specific to HVAC systems). For more information about home comfort and other HVAC topics, download our free Home Comfort Guide or call us at 260-376-2961. 
Credit/Copyright Attribution: "Name"