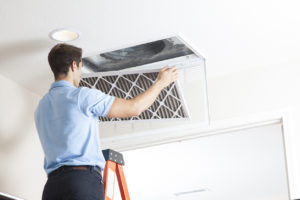 If you're like most homeowners, changing the air filter in your HVAC comes as something of an afterthought. You know you should do it regularly, but somehow you seem to forget. After all, it's out of sight, right? And the HVAC just seems to keep on running, winter or summer. But the fact is, when you change your air filter regularly, you're benefiting your pocketbook, and boosting your comfort level.
Three Benefits of Changing Your Air Filter
1. Extend the life of your HVAC system.
Keeping a clean air filter in your HVAC system helps keep parts clean so there is less friction from dirt. That means the system runs cooler and there's less wear. Plus, a clean air filter promotes better airflow, so that the system doesn't have to struggle to reach temperature set points, wearing out the parts before their time. Not changing the filter at least once a month when you're using it most (winter and summer) and every three months otherwise can be costly as you must replace parts more often, and possibly even the entire system.
2. Lower your utility bills.
When you change your filter regularly, air flows easily, the parts aren't working as hard to heat or cool and the system is using less energy. The Department of Energy estimates that you can save from 5 to 15 percent on your energy bill every year by regularly changing the air filter.
3. Keep your air cleaner.
When you use a good quality air filter, you're helping your HVAC system keep your air cleaner and free of air pollutants such as dirt, pollen, pet dander and mold.
Regularly changing your air filter is just about the easiest, least expensive way we know to keep your HVAC system in good running order all year long. Schedule annual maintenance on your air conditioner or furnace and you should be good to go throughout the heating and cooling seasons.
To learn more about why you should change your air filter, contact Hartman Brothers Heating and Air Conditioning of Fort Wayne.
Our goal is to help educate our customers in New Haven, Indiana and surrounding Fort Wayne area about energy and home comfort issues (specific to HVAC systems). For more information about TOPIC and other HVAC topics, download our free Home Comfort Guide or call us at 260-376-2961.
Credit/Copyright Attribution: "Name"