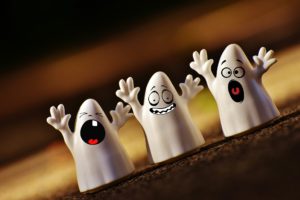 Halloween is closely approaching and you know what that means... ghouls, ghosts, excited children, and candy. Of course, there's another thing you need to consider: HVAC safety.
While you may not have given it a lot of thought in the past, the truth is that Halloween decorations can cause problems with your home's heating and cooling efforts, and vice versa. Here are some tips to help you avoid any issues that might arise:
Fake Spider Webs
The fake webbing that you pick up at your nearby grocery or specialty store provides an inexpensive way to get into the spirit of Halloween. Add to it some plastic spiders and the creep factor intensifies. However, stray webbing can find its way into your home's HVAC system, causing it to clog and decrease efficiency. After the holiday is over, be sure to check the air filter for possible replacement.
Blocked Vents
In addition to fake webbing getting stuck in the vents, there are plenty of Halloween decoration options that could inadvertently block your vents. Blocked vents can prevent your HVAC system from operating properly and drive up your energy costs. This is especially true if you go all out for the holiday and fill your home with plastic mummies, stuffed Halloween creatures, and other such monstrous items.
Extra Energy Needs
If you're the type of person who loves to dive right into this scary holiday, you might be planning on setting up strobe lighting, speakers that emit spooky sounds, or even projectors and screens. All of these things will add to your monthly energy bill. So, be mindful of the added cost and, especially, the safety issue involved with running wires.
For more expert advice on HVAC safety, please contact the friendly professionals at Hartman Brothers Heating & Air Conditioning. We currently serve the needs of Fort Wayne and the surrounding area.
Our goal is to help educate our customers in New Haven, Indiana and surrounding Fort Wayne area about energy and home comfort issues (specific to HVAC systems). For more information about home safety and other HVAC topics, download our free Home Comfort Guide or call us at 260-376-2961. 
Credit/Copyright Attribution: "Alexas_Fotos/Pixabay"