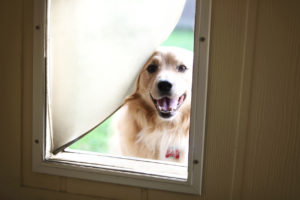 For as much as pets contribute to family life, homes with pets do have special considerations when it comes to their HVAC systems and indoor air quality. The fur and dander that cats and dogs shed does impact parts of an HVAC system, but with a little extra care, a happy coexistence is entirely possible.
Check the air filter more often
Cats and dogs shed fur continuously, but more so in the spring and fall, just in time for the cooling and heating seasons. During these seasons, it's not uncommon for the filter to collect some of the excess fur and dander, which is nothing more than dead skin cells.
Before turning on the A/C and furnace for their respective seasons, inspect the filter and continue to check it at least once a month.
Ductwork
Under normal conditions, ductwork stays fairly clean, but furry pets do add to the airborne particulate load that may collect inside them. It's a good idea to include a ductwork inspection in your annual maintenance visit to learn the condition and cleanliness of your ducts.
Air filtration
If the air filter for the HVAC system clogs easily and your ducts are coated, consider adding a whole-house air filtration system. You could use an electrostatic or HEPA (high efficiency particulate air) filtration system.
Outdoor condenser
It's not just dogs that mark their territory on the outdoor condenser. The urine smells won't go indoors, but they can corrode the condenser, including the coil. Both are vital parts of your air conditioning system.
Installing a fence around the condenser will prevent this annoying territory marking by dogs and cats. When designing the enclosure, leave at least two feet of clearance around all sides of the condenser to permit easy airflow through it.
If you count yourself among those who have homes with pets and want more information about keeping your HVAC system in top condition, contact Hartman Brothers Heating & Air Conditioning, providing HVAC services for Fort Wayne homeowners.
Our goal is to help educate our customers in New Haven, Indiana and surrounding Fort Wayne area about energy and home comfort issues (specific to HVAC systems). For more information about other HVAC topics, download our free Home Comfort Guide or call us at 260-376-2961.