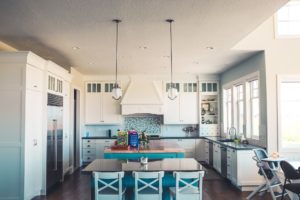 You're not just producing culinary masterpieces when you cook. You're also introducing steam, smoke, airborne particles and odors into the home's air. If you don't have kitchen ventilation, you probably know this already. Fortunately, kitchen ventilation is not that expensive to add, and it's worth the effort and cost.
Kitchen exhaust fans, properly vented to the outdoors and not into the attic, do a great job of keeping the air fresh and removing stale odors. They also vent steam that can rise and create damps spots, leading to mold. What's more, this excess humidity adds to the sum total of humidity in your home.
You have some options when it comes to kitchen ventilation, so let's look at what they are.
Two Types of Kitchen Ventilators
The two basic types of ventilation for the kitchen are updraft and downdraft. Updraft, the most popular kind, sends exhaust upward by means of a fan that gathers up the steam, particles or vapor and propels it through ductwork to the outdoors. It usually comes in the form of an extra hood or canopy mounted above the range. Some newer updraft ventilation systems are now using two fans to keep odors from entering the house — one fan to move smoke and steam to the back of the unit, and another to move it into the ductwork.
Downdraft design is mounted lower, and gathers vapors and particles from across the breadth of the cook stove, then sends it through ductwork outside the home. The major disadvantage of this type is that it is too low (it is mounted less than 10 inches high) to gather up the steam from a large cookpot. Its major advantage is when it's mounted in an island, it doesn't break up the view.
No matter the type of kitchen ventilation you choose, be sure that it can move enough cubic feet per minute of vapor to be effective with your range. A ventilation specialist can help you calculate the size of fans you need.
For more on kitchen ventilation, contact Hartman Brothers Heating and Air Conditioning of Fort Wayne.
Our goal is to help educate our customers in New Haven, Indiana and surrounding Fort Wayne area about energy and home comfort issues (specific to HVAC systems). For more information about ventilation and other HVAC topics, download our free Home Comfort Guide or call us at 260-376-2961.
Credit/Copyright Attribution: "StockSnap/Pixabay"