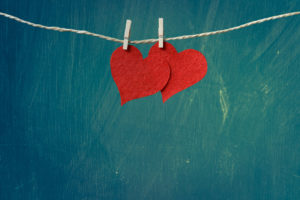 In honor of Valentine's Day this year, show some appreciation for your home's central heating and cooling system by not only recognizing all the benefits it provides you and your family, but by treating it right. Love your HVAC system by doing the following:
Schedule annual professional maintenance for each half of your HVAC system, heating and cooling. The best time is in the fall for heating and spring for cooling, so you can be sure your furnace, A/C, heat pump or whatever is ready for both the coldest and hottest weather that Indiana can throw at you. A well-maintained HVAC system will operate effectively and efficiently, providing whole-house comfort at a reasonable cost.
Invest in a WiFi programmable thermostat to make sure your HVAC system is only providing full heating and cooling when needed, and is programmed with energy-saving setbacks during other times, when the house is empty or the household is sleeping. With its "smart" capabilities, a new programmable thermostat can be set and adjusted remotely from a tablet, laptop or smartphone.
Inspect (and change when necessary) the air filter in your furnace, A/C or heat pump. A fresh or clean air filter removes airborne particulates while allowing for smooth airflow through your forced-air HVAC system. It prevents dust and dirt from contaminating sensitive equipment components, and helps to keep your family healthy. A clogged filter will force your equipment to work harder than necessary, wasting energy and hastening breakdowns.
Other ways to love your HVAC system include weatherizing your home by upgrading insulation and sealing air leaks (which will reduce the workload for the equipment); cleaning and/or sealing dirty or defective ductwork; removing objects such as furniture and rugs from in front of or on top of heating/cooling vents and registers; and using ceiling fans to help your home feel cooler in the summer and (with the blade rotation switched to clockwise) warmer in the winter.
For more ways to help your Fort Wayne area home keep you comfortable in 2018, please contact us at Hartman Brothers Heating & Air Conditioning.
Our goal is to help educate our customers in New Haven, Indiana and surrounding Fort Wayne area about energy and home comfort issues (specific to HVAC systems). For more information about HVAC systems and other HVAC topics, download our free Home Comfort Guide or call us at 260-376-2961.