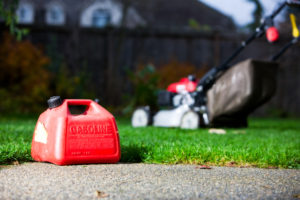 During the summer, the outdoor component of your cooling system sits fully exposed and vulnerable to damage from general yard debris, overgrown weeds and landscape plantings and even your lawn care equipment. Taking extra care with your landscaping and yard work can prevent costly problems with the A/C condenser and compressor.
Here are some steps to take when you're tackling yard chores to keep these components safe and running efficiently:
Shut off the breaker powering the unit, then remove its metal cover and clean out any built up debris inside, like dead leaves, cobwebs and clumps of dead grass. Doing this periodically can keep debris from collecting around the coil, which can cause airflow restrictions that inhibit heat transfer and lower the air conditioner's cooling efficiency.
Get in the habit of mowing away from the outdoor unit, so that the grass discharge isn't getting thrown directly into the condenser coil fins.
After you're done mowing, use a gentle spray from the garden hose to rinse off any grass trimmings that may have blown into the unit.
If you have plants around the outdoor HVAC cabinet, like bushes, shrubs, tall greenery or flowering plants, keep them trimmed so they're at least two feet away to allow for proper airflow. After every trim, dispose of the clippings so they don't blow into the unit.
If you need to use a weed trimmer near the condenser unit, be careful not to hit the outer coil fins with the blade or string so you don't do any accidental harm.
Take steps to cover any bare ground around the condenser coil so it doesn't get splashed with mud whenever it rains. Simply put down weed-blocking landscape fabric in a two-foot area around the cabinet, then add a layer of decorative stones or mulch.
Install an inexpensive mesh filter around the unit that's designed to block debris from getting in around the fan and coil, but won't cause airflow restrictions.
To learn more about how yard work can affect the HVAC system in your Fort Wayne home, contact us at Hartman Brothers Heating & Air Conditioning.
Our goal is to help educate our customers in New Haven, Indiana and surrounding Fort Wayne area about energy and home comfort issues (specific to HVAC systems). For more information about yard work and other HVAC topics, download our free Home Comfort Guide or call us at 260-376-2961.