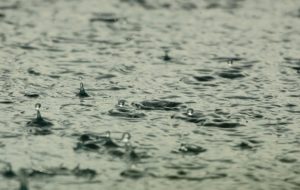 If you have a traditional central HVAC system, it consists of two main components: the evaporator/air handler/heating unit that's situated inside your home, and the condenser/compressor unit that's located outdoors. Since it's exposed to all kinds of weather, it's natural to wonder about the possible rain affects on that HVAC unit.
HVAC Units Are Specifically Designed for Outdoor Placement
HVAC equipment manufacturers know that one side of their split systems are going to have to endure the elements throughout the changing seasons, so they build these units durably to operate reliably even when it's raining:
Electrical wiring and connections inside the unit are sealed to protect them from rainfall.
Key internal components are built from metals like copper and aluminum that don't corrode when exposed to moisture.
Running the unit when it's raining doesn't pose a safety hazard, and it can actually boost your comfort by removing excess humidity from your indoor air.
Extreme Weather Condition Caveats
While your HVAC system is purposefully built to withstand normal outdoor weather conditions like rain, extreme weather events like the following can cause serious harm or even ruin the equipment:
Flooding. If heavy rains cause flooding, and your outdoor unit is partially or fully submerged, it can cause a short circuit that damages the electronics, fan motor and/or electrical wiring.
Lightning. A nearby lightning strike that causes a power outage can pose a serious risk to the compressor inside your outdoor unit. The danger isn't from the outage itself, but from the power surge that often occurs when power is restored.
High winds and hail. When high winds accompany a rainstorm, or if rain turns to hail when the atmospheric conditions are just right, your outdoor unit becomes vulnerable to impact damage that can affect its operation.
If your HVAC unit gets submerged in a flood, or it sustains power surge or serious impact damage, have your HVAC professional inspect the equipment before you attempt to use it again.
To learn more about how rain affects the HVAC system in your Fort Wayne home, contact us today at Hartman Brothers Heating & Air Conditioning.
Our goal is to help educate our customers in Yuma, Arizona about energy and home comfort issues (specific to HVAC systems). For more information about weather considerations and other HVAC topics, download our free Home Comfort Guide or call us at 928-723-3183.
Credit/Copyright Attribution: "Diego_Torres/Pixabay"