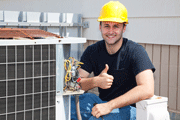 Proper air conditioner maintenance keeps you cool and saves you money. Air conditioners are large, complicated machines that potentially consume more power than any other appliance in your home. Here are five things that maintaining your air conditioner can protect you from, especially in Fort Wayne's hot and humid summers:
The moving parts in your air conditioner require lubrication to keep them moving smoothly. Unlubricated parts will cause the motors in your air conditioner to work hard and consume more electricity. The additional friction will eventually burn out the motor, leaving you with a very uncomfortable house and a hefty repair bill.
Most systems that do not receive regular air conditioner maintenance have dirty coils in both the condenser and evaporator. The coils are where the unit actually "makes" cold air, and if they are dirty, they will not cool air efficiently. Letting them stay dirty not only wastes energy, but also leads to less effective cooling.
Air conditioners have a drain where the water that condenses on their coils can flow out. If it is plugged and water backs up, your home could suffer water damage. A plugged condenser drain can also lead to a high level of indoor humidity that not only makes you uncomfortable but can also lead to mold and mildew growth.
Improperly adjusted fans and blowers can make an air conditioner up to 15 percent less efficient, according to the federal EPA.  Air conditioner maintenance includes adjusting your blower to run efficiently.
Over time, the refrigerant level in your air conditioner can shift. As with oil in a car, having too much or too little refrigerant in your unit can both damage it and make it run less efficiently. A properly-maintained unit will have the perfect amount of coolant.
The old adage that if you take care of something it will take care of you applies in spades to your air conditioning unit. To get help with air conditioner maintenance and avoiding the problems of a poorly maintained unit, contact Hartman Brothers Heating & Air Conditioning, Inc. We have been Fort Wayne's leading home comfort company since 1963.
Our goal is to help educate our customers about energy and home comfort issues (specific to HVAC systems).  For more information about air conditioner maintenance and other HVAC topics, download our free Home Comfort Resource guide.
Hartman Brothers services New Haven, IN and the surrounding Fort Wayne area. Visit our website to see our special offers and get started today!