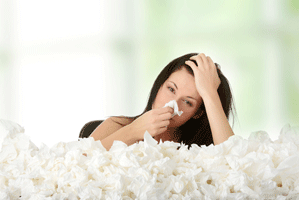 Your New Haven home should feel both safe and comfortable. Unfortunately, indoor allergy triggers may leave you feeling a bit under the weather, with a host of mild to severe symptoms. Knowing how to recognize these triggers is the key to reducing your exposure and allergy symptoms. 
Symptom Recognition
Treating your allergies is easier once you know you have them. Typical symptoms include:
Itchy, watery eyes
Cold-like symptoms that last beyond two weeks
A runny nose with clear, watery discharge
Irritated, scratchy throat
Congestion
Five Common Indoor Allergy Triggers
Every home contains potential allergens, with these being some of the most common:
Dust: This minute particulate is found everywhere and is composed of dander, dirt, dead skin cells, fibers and plant matter.
Dust Mites: These tiny insects feast on dust, and their droppings are the number one source of indoor asthma and allergy triggers. They can be found throughout your home, but tend to prefer areas with a high concentration of dead skin cells (such as your bedding), and elevated humidity or temperature levels.
Pets: Pet dander consists of microscopic flakes of skin, shed by furry or feathered companions. Since dander can easily adhere to clothing, shoes or hair, you don't necessarily have to have a pet in your home to experience symptoms.
Mold: This fungus consists of tiny spores, which can irritate nasal and lung passages.  Mold can thrive in damp and/or dark environments, such as your bathroom or basement.
Pollen: While typically considered an outdoor allergen, pollen can easily enter your home via shoes, pets, clothing, or blow in through an open door or window.
Solutions
Consider the following solutions:
Install a whole-home air purification system, which can work with your existing HVAC equipment to effectively remove up to 95 percent of airborne particles, such as mold, dander and dust.
Control humidity levels by keeping them below 55 percent.
Change your air filter every four to six weeks.
For more information on indoor allergy triggers, call the experts at Hartman Brothers Heating & Air Conditioning, Inc. Since 1963, we've been providing quality HVAC services to homeowners in Fort Wayne and the surrounding areas.
Our goal is to help educate our customers in New Haven, Indiana and surrounding Fort Wayne area about energy and home comfort issues (specific to HVAC systems). For more information about allergy triggers and other HVAC topics, download our free Home Comfort Resource guide.
Credit/Copyright Attribution: "Piotr Marcinski/Shutterstock"