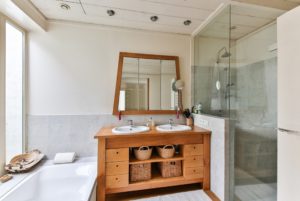 If you don't already have a bathroom exhaust fan, you might put this on your list of future home improvements. Bathroom exhaust fans don't cost all that much to purchase or install, and they do a great job of improving your overall indoor air quality. Properly installed, they can even have an impact on your utility bill for the better.
Why Install a Bathroom Exhaust Fan?
The air in your bathroom may be more polluted than that in the rest of the house. Bathrooms tend to be contained and windowless with little circulation. What's more, lots of moisture is generated in the bathroom, so this confined space with no ventilation can become a repository for mold, mildew and fungus.
What's more, high humidity in the home can actually cost you more. You feel warmer the higher the relative humidity. In summer, humidity levels should be no more than 40-45 percent. If your home's humidity is higher than that, you may be tempted to turn the air conditioner down just to feel comfortable. Furthermore, your air conditioner — the main means most homes utilize for dehumidification — will have to work harder to remove moisture from the home's air.
If you have a window in your bathroom, you can open it a crack and run a table fan now and then to improve circulation, but this may not always be convenient. A much better remedy for moving out stale air is a bathroom exhaust fan.
Choosing a Bathroom Exhaust Fan
Today's bathroom exhaust fans are much improved from those of former years. They're much more efficient and quieter, and some come with additional smart features, such as motion-activated lights that detect when you enter the bathroom, or heat exchanger ventilation.
The main things to think about when installing a bathroom exhaust fan, are the size — make sure it can move a sufficient volume of air for the space it will serve — and assuring that it is vented to the outdoors, rather than into the attic.
For more information on bathroom exhaust fans, contact Hartman Brothers Heating and Air Conditioning of Fort Wayne.
Our goal is to help educate our customers in New Haven, Indiana and surrounding Fort Wayne area about energy and home comfort issues (specific to HVAC systems). For more information about bathroom exhaust fans and other HVAC topics, download our free Home Comfort Guide or call us at 260-376-2961.
Credit/Copyright Attribution: "La-Belle-Galerie/Pixabay"