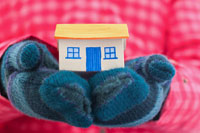 Boiler maintenance is an important part of your pre-winter HVAC checkup, so now's the ideal time to ensure that everything is working correctly.  
The best time to inspect the boiler is during September and October, before the heating season starts. This is especially important if the boiler has been mothballed since last April or May which is likely.
Carry out an initial inspection for leaks before firing the boiler up.  This is a simple check of the boiler and surrounding area for evidence of water leaks while it's not under pressure.  If the boiler is located in a difficult-to-reach or dark area, ensure you have a flashlight on hand.
Check ventilation and combustion air openings for debris, and clear where needed.  Blocked flues and ventilation shafts not only impair boiler function, but can lead to the build-up of dangerous fumes like carbon monoxide in your home.
Check that the fuel supply is switched on, and free of leaks and contaminants.
After igniting the boiler, in accordance with the operating instructions, recheck the whole system for leaks.
If you run into a problem, contact a professional HVAC technician.
The above shows what basic boiler maintenance you can carry out for yourself, but it's still important to have the boiler checked by a qualified professional and have a preventative maintenance plan put in place.  This will ensure your boiler has been correctly serviced, giving you peace of mind during the oncoming winter months.
We have been serving the heating and cooling needs of the Fort Wayne area since 1963, and know the demands of the Indiana climate. Please contact us at Hartman Brothers Heating and Air Conditioning for all your boiler maintenance and HVAC needs.
Our goal is to help educate our customers in New Haven, Indiana and surrounding Fort Wayne area about energy and home comfort issues (specific to HVAC systems). For more information about boiler maintenance and other HVAC topics, download our free Home Comfort Resource guide.
Credit/Copyright Attribution: "Nestor-Bandrivskyy/Shutterstock"