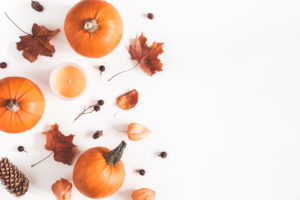 Fall is here! Time to break out the autumn decorations and Halloween accessories. Before you get too much into the fall spirit, though, have you thought about how these decorations are impacting your indoor air quality? Here are a few fall IAQ concerns to be aware of.
Scented Candles
Scented candles can fill a room with wonderful fall aromas. However, many of those candles also use harmful chemicals that spread through the air as they melt - particularly if the candle is made of paraffin wax. Some cheap candles even have lead in their wicks, which is incredibly toxic. Use natural waxes, like beeswax, and a 100 percent cotton wick, to keep those harmful chemicals out of your home and allow you to breathe easier.
Halloween Decorations
Halloween decorations are a great addition to your home. However, they also pose several fall IAQ concerns. Many cheaply made plastic items, such as skeletons, accumulate harmful chemical gases inside them during manufacturing. These chemicals are then released into your home over time, in a process called off-gassing. If you get plastic decorations, make sure they're non-toxic, and keep your home well-ventilated to keep harmful gases out.
Perhaps you'd rather go a more natural route, and include a bale of hay in your decor. These can exacerbate allergies and trigger hay fever. Or you may just make your own decorations. However, if you paint them, do it outside, and let them dry completely, to avoid paint fumes in your home.
Pumpkins
It's not Halloween until you've carved a jack-o-lantern. What harm could a pumpkin possibly cause to your IAQ? Well, if you leave it too long, it can start growing mold. Those mold spores will get into your air, causing allergies and asthma.
Once you've carved your pumpkin, take it outside and spray it with a water and bleach solution, then let it air dry. This will help to preserve it, allowing the jack-o-lantern to last longer without mold growth.
For more help addressing fall IAQ concerns, contact us at Hartman Brothers today. Northeast Indiana trusts us for all their heating and cooling needs.