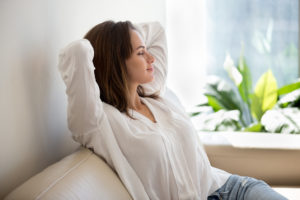 There's a proven connection between indoor air quality and the performance and efficiency of your HVAC system. While your air conditioner and furnace might seem to be principally designed for comfort-control, actually, the system as a whole plays a major role in reducing airborne particulates and allergens, as well as controlling humidity inside the house.
Here are two ways that quality, professionally-maintained HVAC components help keep indoor air healthy:
Whole-House Filtration
The HVAC system air filter continuously filters air circulating throughout your house. In normal operation, the total quantity of air contained within the house will be filtered multiple times per day. This ongoing protection reduces indoor levels of airborne particulates like dust and lint, as well as toxic pathogens such as mold spores.
Help your HVAC system clear the air by scheduling annual preventive maintenance to ensure all components are functioning up to manufacturer's specs. Also, change the system air filter monthly all summer long and every other month during the winter heating season. If you don't know how to change your filter, any qualified HVAC contractor will be happy to demonstrate this simple DIY procedure.
Humidity Control
High levels of indoor humidity reduce indoor comfort and also degrade air quality. The Environmental Protection Agency recommends keeping relative humidity below 60%, with 50% being the preferred upper limit. That's because drier air is generally healthier air. Contaminants like mold, mildew and other bacteria thrive in high indoor humidity. These pathogens infect building materials in a moist environment and often spread by releasing airborne spores that may trigger allergic reactions and even chronic illness in residents.
The evaporator coil in your central air conditioner extracts water vapor to keep indoor humidity levels in the EPA-recommended range. To support maximum A/C humidity reduction, schedule annual preventive maintenance by a qualified HVAC service tech. This service includes inspection and, if necessary, cleaning the evaporator coil to restore full efficiency. Measuring the A/C refrigerant charge is another important service that also supports maximum evaporator coil function.
For professional service to ensure healthy indoor air quality, contact Hartman Brothers.