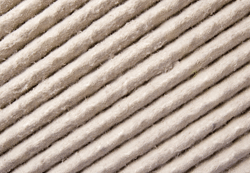 Fort Wayne's continental climate means we keep our windows closed most of the year to control our indoor temperatures. In today's airtight homes, that habit can make it harder to maintain high indoor air quality. One of the easiest ways to counteract this problem is by choosing a better air filter.
Find a Better Filter
Those cheap one-inch fiberglass filters are meant to trap bigger debris particles, such as hair and carpet fibers, so they don't gum up your heating and cooling system. Because they can't catch the tiny contaminants you can breath in, they don't improve your indoor air quality.
For cleaner indoor air, look for a polyester flat panel filter or a pleated filter. Pleated filters are typically made from paper, polyester or cotton, which have a denser weave that lets fewer particles get through compared to fiberglass. The filter surface is bent into accordion-like pleats that let it fit more particle-trapping surface into the same space as a flat panel filter.
Know Your MERV Ratings
Once you decide on the type of filter you prefer, look for a model that offers a Minimum Efficiency Reporting Value (MERV) above 5. A filter's MERV indicates the percent of particles in certain size groups that it can trap. A higher MERV means greater efficiency.
MERV 5 to 8 - Filters in this range are usually polyester flat panel models or pleated models. They trap between 20 and 70 percent of particles in the 0.3 to 1 micrometer range, so they can catch most mold spores, pollen and pet dander. For most homes, this is enough.
MERV 9 to 12 - If anyone in your home has asthma or allergies, look for a filter in this range. These models are almost as efficient as HEPA filters. The density of filters with MERVs of 11 and higher can interfere with airflow in some systems, so consult a heating and cooling technician before installing one.
For more information on improving your indoor air quality, contact us at Hartman Brothers Heating & Air Conditioning Inc.
Our goal is to help educate our customers in New Haven, Indiana and surrounding Fort Wayne area about energy and home comfort issues (specific to HVAC systems). For more information about air filters and other HVAC topics, download our free Home Comfort Resource guide.
Credit/Copyright Attribution: "Norbert Rehm/Shutterstock"