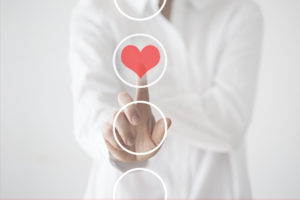 Unlike the dirt and dust that soil your floors and furniture, you can't see most of the airborne pollutants that compromise your home's indoor air quality. But these pollutants can have an adverse effect on your health, especially when they build up over time in an airtight home.
This American Heart Health Month, learn how to prevent adverse IAQ effects, including heart disease.
Airborne Pollutants and Health
Many pollutants are found in the typical American home, like:
Dust
Pet dander
Pollen
Volatile organic compounds
Mold
Radon
Tobacco smoke
Dust mites
Some of the issues associated with these pollutants:
Tobacco smoke can cause cancer and heart disease.
Mold can aggravate allergies and trigger asthma attacks.
Radon may cause cancer.
Dust mites, dust, pet dander and pollen trigger allergies.
VOCs can cause many types of respiratory problems, as well as damage to the lungs, kidneys, liver and brain. VOCs can also cause cancer.
Improving IAQ
Fortunately, you can improve your IAQ significantly by diminishing the presence of the above pollutants in your home. Here are some of the best means to do so.
Limit the presence of these pollutants at the source. Vacuum regularly; air out chemical-laden goods and dry cleaning before bringing them into the home; don't allow smoking in the home; fix water leaks and other issues that lead to damp conditions and mold; consult a professional about possible radon leakage into your home.
Install a good quality air filter in your HVAC system. This won't catch all the airborne pollutants but it will filter out a good many of them so they are not recirculated into your home's air.
If you have mold issues, consider installing an ultraviolet germicidal irradiation light in your HVAC system.
Talk to an HVAC consultant about acquiring or installing an air cleaner or purifier. There are many different types, so you'd be wise to get professional help to decide which type is best for your home.
For more about IAQ effects and purifying your home's air, contact Hartman Brothers of New Haven.
Our goal is to help educate our customers in New Haven, Indiana and surrounding Fort Wayne area about energy and home comfort issues (specific to HVAC systems). For more information about other HVAC topics, download our free Home Comfort Guide or call us at 260-376-2961.