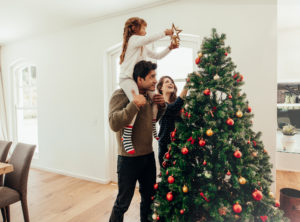 We hate to be the ones to break the bad news to you, but it's official: your live Christmas tree can make you sick.
If you've ever noticed an increase in your own sneezing and wheezing when that lovely pine-scented Christmas tree makes an entrance, you may want to find a substitute.
Here's how your live Christmas tree is affecting your indoor air quality (IAQ).
It's Not the Pollen
Researchers John Santilli of St. Vincent Medical Center in Connecticut and Rebecca Gruchalla of the University of Texas initiated a study based on observations that patients' allergic reactions worsened during the holiday season when Christmas trees were introduced into the home. The study revealed that mold counts rose from 800 to 5000 spores per cubic meter within two weeks after a Christmas tree was introduced. Yet another study found the presence of 50 species of mold on the needles and bark of a sampling of Christmas trees.
So where does all that mold come from? When trees are cut down, they are baled and stacked tightly in trucks. Even though the trailers are refrigerated, it's still a prime environment for mold to flourish.
People in your household may have manifested symptoms of an allergy to mold, only to find the symptoms vanish when the tree comes down. While the cure seems simple enough, it can put a damper on a family's holiday spirit to have to give up the traditional live Christmas tree.
Christmas Tree Substitutes
Fortunately, there are some alternatives that might help alleviate the disappointment of forgoing the beloved live Christmas tree.
Here are some substitutes to consider.
1. Buy an artificial tree. Choices abound.
2. Put up a representative Christmas tree: etch a Christmas tree on a chalkboard, or hang an enlarged print of a tree as if it were a tapestry.
3. Create a holiday tree from dead branches or a dead tree you find in the woods. Clean it, seal it, paint it (several layers) and decorate it.
For more on Christmas trees and your indoor air quality, contact Hartman Brothers of New Haven.
Our goal is to help educate our customers in New Haven, Indiana and surrounding Fort Wayne area about energy and home comfort issues (specific to HVAC systems). For more information about other HVAC topics, download our free Home Comfort Guide or call us at 260-376-2961.