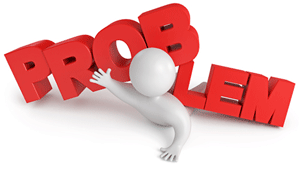 As the weather warms, everyone in Indiana will be turning on their air conditioners. How is yours working? For tips on how to address some of the most common A/C problems, read on:
If your air conditioner is just plain not working, the first thing to check are the circuit breakers or fuses in your home.
If the A/C was running but stopped, let the system cool down before resetting the circuit breakers.
If the outside compressor unit stops working when the weather is hot, you may need to reset the high-pressure limit switch. To do this, press the button in the compressor's access panel.
This may seem like a no-brainer, but make sure the air filter is changed regularly. You can also clean the evaporator and condenser coils. A dirty filter and coils can cause the compressor or fan to labor or stop working entirely.
If a room A/C unit is is cycling on and off erratically, the thermostat sensor might have been knocked out of position. This sensor is behind the control panel and should be near the coils, but not touching them.
Another common A/C problem occurs when the condensate drain stops flowing properly. This can happen if the unit is not level or if materials clog up the drain. Water or mold damage can result.
Uneven or inadequate cooling may occur if airflow is below manufacturer specifications. Make sure there's no cut grass, weeds or other yard debris blocking airflow to the outside condenser, and check your inside registers and grilles to make sure no furniture, drapes or rugs are blocking them.
There are many common A/C problems that only a trained technician can diagnose and correct. The technician will check and adjust the A/C's refrigerant level, inspect wiring and connections for corrosion, and make sure other important components are working correctly.
At Hartman Brothers Heating & Air Conditioning, Inc., we have been fixing problems like these for 50 years. Please contact us today so we can make sure your Fort Wayne area home stays cool all summer long.
Our goal is to help educate our customers in New Haven, Indiana and surrounding Fort Wayne area about energy and home comfort issues (specific to HVAC systems).  For more information about common A/C problems and other HVAC topics, download our free Home Comfort Resource guide.
Image courtesy of Shutterstock