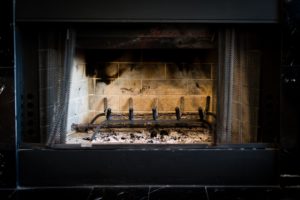 Nothing says it's the holiday season like sparkling holiday lights, inside and outside the home. Sad to say, those dazzling lights are also the cause of many a tragic holiday fire. But there's no reason you can't enjoy your holidays and your lights safely if you exercise a bit of caution.
Following is some advice for avoiding several types of holiday fire hazards.
1. Christmas trees.
Live Christmas trees are beautiful and smell good, but if they are allowed to dry out, they can catch on fire from the electric lights that are strung on them. Choose a tree that is still fresh, without brittle, dry leaves. Make sure the tree holder is always full of water, and that the tree is well away from any source of combustion, such as a space heater or fireplace. Discard old lights that flicker on and off or that have a frayed cord. Do not overload lighting at the power source.
When it's cold outside, we tend to crank up the heat, but always be mindful of whatever heating source you are using. If you have a roaring fire in the fireplace, open the damper to let smoke and gases escape. Keep a firescreen in front of the fireplace. Keep space heaters away from flammable objects, such as drapes and holiday wrapping paper.
3. Holiday cooking.
Cooking fires run a close second to Christmas tree fires as a major holiday hazard. Most families will be doing lots of cooking, with multiple burners and the oven in use. Make sure someone's keeping an eye on things during all the hustle and bustle of the holidays.
4. Candles.
Candle light sure does set a special mood during the holidays, but candles are also a major source of residential fires. Always trim the wick before you use the candle. Don't light it near any flammable objects. Set it only on heat-resistant surfaces.
For more on avoiding holiday fire hazards, contact Hartman Brothers Heating and Air Conditioning. We serve Fort Wayne and the surrounding area.
Our goal is to help educate our customers in New Haven, Indiana and surrounding Fort Wayne area about energy and home comfort issues (specific to HVAC systems). For more information about home safety and other HVAC topics, download our free Home Comfort Guide or call us at 260-376-2961.