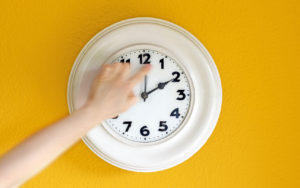 The arrival of daylight saving time means it's time to turn all your clocks ahead an hour. This annual "spring forward" ritual can also affect the operation of your home's HVAC system, but taking the following steps can ensure that it stays in perfect sync with this seasonal change in time.
Verify the Time Displayed on Your Thermostat
Most modern thermostats have clocks that adjust automatically twice a year for daylight saving time, but you should still make sure the displayed time is correct. If it's not, you'll need to put the time ahead one hour on Sunday, March 11th to ensure that your heating and cooling settings stay on schedule.
Adjust the Thermostat Programming for Warmer Weather
The time change also tells you that the weather will soon warm up, and you'll soon need to switch over from heating to cooling. To maintain a comfortable home environment during this transitional period, you might have to make temporary changes to the thermostat's setback periods and temperature settings. Once your system is in cooling mode, don't forget to raise the temperature settings so you can save energy at night and during the day when the house isn't occupied.
Schedule Cooling System Maintenance
While you're focused on HVAC-related chores, it's an ideal time to remember to schedule professional maintenance to prepare your HVAC system for the coming cooling season. In the spring, an HVAC maintenance visit should cover essential tasks like flushing the condensate drain system, cleaning/lubricating the blower assembly, cleaning both the evaporator and condenser coils, and assessing the refrigerant level.
Replace Essential Backup Batteries
If a power outage occurs, having fresh batteries in your thermostat can prevent the loss of your programming and temperature setbacks, so you won't have the hassle of inputting them again. When you're tackling these daylight saving time tasks, take the opportunity to replace the batteries in your carbon monoxide and smoke detectors too, so your family is fully protected.
For more advice on how to optimize the HVAC system in your Fort Wayne home for daylight saving time, contact us at Hartman Brothers Heating & Air.
Our goal is to help educate our customers in New Haven, Indiana and surrounding Fort Wayne area about energy and home comfort issues (specific to HVAC systems). For more information about other HVAC topics, download our free Home Comfort Guide or call us at 260-376-2961.