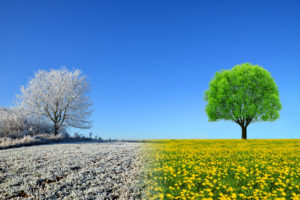 It won't be long before the winter snow and ice melts away and spring is on the doorstep. Taking care of HVAC prep now ensures that your equipment is in top condition when the weather warms up.
Here are some essential HVAC system tasks to tackle before spring arrives:
Schedule an HVAC Maintenance Visit
Booking a cooling system tuneup now is a good way to beat the spring rush when your HVAC contractor's schedule is filled up. A preventive maintenance checkup ensures that your air conditioner or heat pump is working properly so there's less chance of a breakdown this summer, and it's running at optimal efficiency to keep your energy bills in check.
Replace Your Air Filter
A clean HVAC system air filter is crucial to prevent airflow restrictions that can lead to component damage and a decline in energy efficiency. Ideally, the filter should be checked once a month and replaced at the first sign of debris buildup, or at least every 90 days.
Give the Ductwork Some Attention
If you haven't had the ductwork inspected recently, leaks and a lack of insulation may be costing you 20 percent or more of your HVAC equipment's conditioned air output. To end that needless waste, have your HVAC technician seal the joins and seams with mastic or metal-backed tape, then wrap the accessible ducts in R-6 insulation.
Invest in a Programmable Thermostat
If you're still relying on a manual or basic digital HVAC control, you're missing out on potential energy savings and convenience. Having a programmable thermostat installed can make cooling your home easier and more efficient, just be sure to choose one that matches your typical weekly schedule.
Update Your Older Cooling Equipment
If your A/C or heat pump is approaching 15 years old or has needed repeated repairs in recent years, replacing it now can help you save energy this summer, and give you peace of mind that you have reliable equipment that's covered by a manufacturer's warranty.
For more advice about HVAC prep for your Fort Wayne home, contact us today at Hartman Brothers Heating & Air Conditioning.
Our goal is to help educate our customers in New Haven, Indiana and surrounding Fort Wayne area about energy and home comfort issues (specific to HVAC systems). For more information about other HVAC topics, download our free Home Comfort Guide or call us at 260-376-2961.