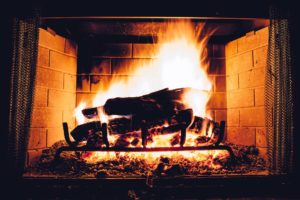 The crisp Indiana fall weather is perfect for a crackling fire, but before you stack in those logs, take time for correct fireplace preparation to protect your health and safety.
Do a little cleaning.
Remove any leftover ashes. A buildup of ash will interfere with your fire and, if left too long, will produce an unpleasant odor. Open the flue damper to check for blockages and to make sure it still works. If the fireplace surroundings are grimy, use masonry cleaner and a stiff brush to clean it.
Check your chimney cap.
A chimney cap keeps rain, snow, and debris such as leaves out of your fireplace. It also discourages birds, squirrels, and other wildlife from nesting in your chimney. If your chimney cap is missing or damaged, put up a new one before fireplace season begins.
Set up a spark guard.
Fireplace embers that land on carpeting, furniture or other flammable material can easily start a fire where you don't want one. If you haven't already, install glass fireplace doors or a spark guard to keep the fire where it belongs.
Call in a pro.
Having your chimney swept and inspected by a professional certified by the Chimney Safety Institute of America is an essential part of annual fireplace preparation. A professional will remove soot buildup in your chimney that poses the risk of chimney fires. They'll also check the chimney and lining for cracks and other signs of damage.
Set aside dry wood.
Before the chilly weather sets in, pile up enough dry wood for at least one fire in a holder somewhere indoors. By bringing in dry wood ahead of time, you won't end up having to use damp wood that doesn't burn well and produces excessive smoke.
Before you light the season's first fire, test your smoke and carbon monoxide detectors to be sure they're able to alert you in case of danger. By investing a little time in proper fall fireplace preparation, you'll be protecting your family from house fires, smoke backdrafting, and carbon monoxide exposure.
For more information on your home's heating system and winter preparation, contact the professionals at Hartman Brothers Heating & Air Conditioning.
Our goal is to help educate our customers in New Haven, Indiana and surrounding Fort Wayne area about energy and home comfort issues (specific to HVAC systems). For more information about home comfort and other HVAC topics, download our free Home Comfort Guide or call us at 260-376-2961. 
Credit/Copyright Attribution: "Pexels/Pixabay"