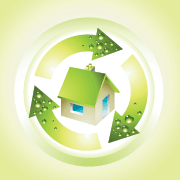 HEPA filtration works in conjunction with your home's forced-air system to remove up to 99.99 percent of allergens, viruses, and other pathogens and VOCs (volatile organic compounds) from indoor air. Learn how HEPA filters stand apart from all other media filters, and up the ante for delivering optimal indoor air quality (IAQ) both in the thick of allergy season and any other season.
How does HEPA filtration work?
HEPA stands for High-Efficiency Particulate Air, and is defined by the U.S. Department of Energy as a filter's ability to remove a minimum of 99.97 percent of particulates and micro-organisms down to 0.3 microns in size. HEPA filters are much thicker than standard 1-inch media filters. They are constructed with a random configuration of web-like fibers that manipulate the air stream in such a way as to alter the trajectory of contaminants so they don't continue moving through your home's HVAC system.
Benefits of HEPA filtration

The average household harbors a host of indoor pollutants, including regional allergens, dust mite and insect parts, mold spores and harmful germs, auto emissions from the garage, insulation fibers, odors, pet hairs and dander, and even radioactive radon that infiltrates the home through the foundation.
HEPA filtration removes both benign and harmful contaminants from household air, which elevates comfort and prevents or alleviates health ailments, such as virus infections, asthma and allergies. HEPA filters act to protect HVAC equipment from debris accumulation in the duct system and on heating/cooling components, which increases efficiency.
HEPA limitations

HEPA systems don't remove odors and gases from household air. Also, the thickness of HEPA filters impedes airflow, which may cause a significant pressure drop at the blower/air handler, and result in malfunctions and air-pressure imbalances. Your HVAC professional should examine your HVAC equipment to determine if any modifications are necessary for a HEPA filtering system.
Work with your HVAC pro to determine if HEPA filtration is the best solution to improve your IAQ. Contact Hartman Brothers Heating And Air Conditioning for more information. We have more than 50 years of experience and quality service in Fort Wayne and the surrounding area to assist with all your home-comfort needs.
Our goal is to help educate our customers in New Haven, Indiana and surrounding Fort Wayne area about energy and home comfort issues (specific to HVAC systems).  For more information about HEPA filtration and other HVAC topics, download our free Home Comfort Resource guide.
Image courtesy of Shutterstock