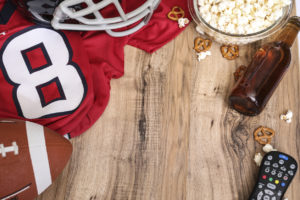 Planning to host a football watch party at your home? In addition to providing hot dogs, soda, and a big screen TV, it's also important that you take care of your guests' comfort needs. And since party comfort concerns are such a big deal, let's break it down to two primary needs:
Temperature Concerns
If you want your guests to be comfortable, you first need to consider your temperature needs. Here are a few tips:
Hire an HVAC Technician - Your heating and cooling systems should be checked once per year by a qualified HVAC technician to ensure proper operation and efficiency.
Crank Up the Air (or Heat) - Depending on how hot or cold it is outside, you'll want to adjust your thermostat accordingly. Keep in mind that a large number of people will increase the temperature of your home as the result of body heat.
Grab Some Fans - If it's warm inside and the air conditioner isn't quite cutting it (or you want to save money), grab some fans and use those, too.?
Indoor Air Quality Concerns
Once you've tackled your home's temperature needs, it's time to turn your attention to the indoor air quality. Follow these tips and you can't go wrong:
Replace the Air Filter - Your HVAC system's air filter should be replaced every 1-3 months, and now is the perfect time to check it.
Install a Whole-House Air Cleaner - While a portable air cleaner will do the trick, the installation of a whole-house unit will perform better overall and more effectively remove contaminants from your home's air.
Get Rid of Dust and Debris Properly - Feather dusters and standard vacuum cleaners don't cut it anymore. These days, you should be using microfiber cloths and a vacuum equipped with a HEPA (high-effiiciency particulate air) filter to, well, "clear the air." ?
If you need more expert advice on party comfort concerns, or if you have any other questions related to home comfort, please contact the professionals at Hartman Brothers Heating & Air Conditioning. We've been serving the HVAC needs of New Haven and the surrounding area since 1963.
Our goal is to help educate our customers in New Haven, Indiana and surrounding Fort Wayne area about energy and home comfort issues (specific to HVAC systems). For more information about other HVAC topics, download our free Home Comfort Guide or call us at 260-376-2961.