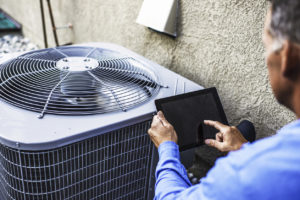 Normally, a properly functioning air conditioner makes occasional pops, hisses, rattles, and a quiet hum that shouldn't be a cause for concern. However, if you notice a loud humming or buzzing noise, your unit is probably malfunctioning. Several issues can cause a humming air conditioner. Let's take a closer look at them along with their solutions.
Common Causes of an A/C's Humming Noise
Here are the most likely reasons your air conditioner is making that distracting hum:
Condenser fan motor — Your unit's fan motor may seize up, but power still flows through it. The resistance created produces a noticeable humming sound.
Loose components — Your air conditioner is a complex appliance with several moving components that must be in perfect sync for your home to be cooled adequately. Over time, one part may become loose. This, in turn, causes other parts to wear prematurely, creating a loud buzz.
Malfunctioning circuit breaker — A faulty circuit breaker that's overloaded and can't trip can produce a buzzing sound.
Contractor relay switch — This low-voltage switch is located inside your exterior A/C unit. It turns on the unit when the temperature of your home rises to the set point at which cooling is needed. When it fails electrically or mechanically, the contractor produces a humming noise.
Frozen unit — Your A/C unit can freeze up, resulting in a loud humming or buzzing sound.
What to Do to Fix a Humming Sound
If you hear a loud humming or buzzing sound coming from your air conditioner, turn off the system immediately. Leaving it on could lead to more damage to the unit as well as put the safety of your home and family at risk. Next, call an HVAC professional to diagnose and fix the noise.
Never try to repair the problem on your own. The electric current and refrigerant circulating through your system could put your safety at risk. If you have a humming air conditioner in the Fort Wayne area, contact the experts at Hartman Brothers Heating & Air Conditioning. We've been helping homeowners with their heating and cooling needs since 1963.
Our goal is to help educate our customers in New Haven, Indiana and surrounding Fort Wayne area about energy and home comfort issues (specific to HVAC systems). For more information about other HVAC topics, download our free Home Comfort Guide or call us at 260-376-2961.