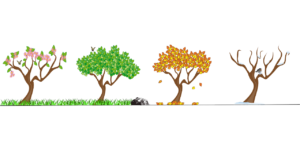 An ideal time to perform maintenance on your home's HVAC system is the fall or spring during transitioning seasons, in the period before the heating or cooling seasons are ready to start. This fall, take these fall maintenance steps in order to make sure your HVAC system works efficiently, effectively and safely this fall and winter, and is ready to go next year when spring returns.
Check the air filter for your air conditioner or heat pump air handler, or for the furnace blower if it serves as the air handler for your cooling system (which is common in homes with furnaces). If the filter is clogged with debris and dust, replace it with a fresh filter. A new filter will allow for clear airflow through the equipment, which improves efficiency and performance.
Following instructions carefully, clean the inside and outside coils of your split-system A/C or heat pump. Dirty coils prevent optimum heat exchange, which is necessary for proper operation of an air conditioner or heat pump. You don't want dust, mold and bacteria to remain on the coils all winter. This can create a health hazard and eventually damage the coils.
Clean the condensate pan underneath the indoor coil, to avoid a situation where standing water is left for an extended period (along with mold, mildew and insects). Clear out clogs in the condensate drain to avoid backed-up water and flooding in the basement or utility room.
If you're a handy homeowner, you can take the above steps (though just about anybody can change an air filter), as long as you follow easily available instructions. However, the best course of action is to call your trusted HVAC contractor and schedule a professional fall maintenance visit. They will take all of the above steps plus complete a checklist of other essential maintenance steps to ensure your A/C is ready to go next spring. They also can perform necessary fall maintenance on your heating system during these transitioning seasons.
To schedule a fall maintenance visit for your Fort Wayne area home, please contact us at Hartman Brothers Heating & Air Conditioning.
Our goal is to help educate our customers in New Haven, Indiana and surrounding Fort Wayne area about energy and home comfort issues (specific to HVAC systems). For more information about seasonal HVAC considerations and other HVAC topics, download our free Home Comfort Guide or call us at 260-376-2961.
Credit/Copyright Attribution: "OpenClipart-Vectors/Pixabay"