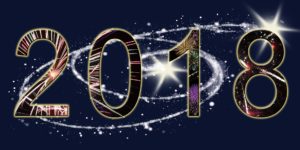 In 2018, your New Year's resolutions might include losing weight, working out more, or doing things to improve your health and wealth. Along with these personal resolutions, some HVAC resolutions can benefit you in ways you might not expect.
Keep yourself more comfortable, improve HVAC system performance, and save some money with these HVAC resolutions.
Call for preventive maintenance.
Resolve to call your local trusted HVAC professional for regular preventive maintenance on your HVAC system. Maintenance allows a trained expert to inspect and evaluate the equipment while making minor repairs and adjustments that boost performance. Regular maintenance will also extend the functional life of your HVAC system. Heating systems should be checked in the fall and cooling systems in the spring.
Check and change air filters more often.
Air filters improve indoor air quality by removing particulates such as dust, pollen, dander, fibers, and other material. Filters should be checked at least every month and changed when they get dirty. Make a resolution to check the filters monthly.
Switch to a programmable thermostat.
Programmable thermostats let you control when, for how long, and at what level your heating and cooling systems run. This saves money turning the HVAC system up or down automatically, depending on indoor temperature needs.
Seal air leaks.
Air leaks in your home's structure or in the HVAC system ductwork can allow a substantial amount of conditioned air to escape unused. This wastes the money you've paid to heat or cool that air. At the same time, it causes the additional expense of heating or cooling more air to make up the difference. Seal holes, gaps, or cracks in your home's walls, at areas where pipes or wires penetrate walls, and at areas where walls and foundation connect. Make sure the ductwork is connected and sealed at each connection with mastic or metal tape.
Hartman Brothers Heating & Air Conditioning serves Hoosier HVAC customers in Fort Wayne and the nearby northern Indiana cities. Contact us today for more information on beneficial HVAC resolutions and for the heating and cooling services you need, any time of the year.
Our goal is to help educate our customers in New Haven, Indiana and surrounding Fort Wayne area about energy and home comfort issues (specific to HVAC systems). For more information about HVAC systems and other HVAC topics, download our free Home Comfort Guide or call us at 260-376-2961. 
Credit/Copyright Attribution: "Gellinger/Pixabay"