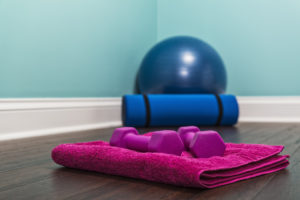 With the hectic schedules that most of us have these days, it's no surprise that many people are opting for at-home sporting activities and workout programs rather than gym memberships to improve their health. What you may not know is that the very equipment that's meant to help you stay healthy at home can degrade indoor air quality and harm your health. How can that be?
Let's take a closer look at the IAQ concerns linked to home gyms and exercise rooms.
Particulate Matter
One major concern of working out at home is the particulate matter levels. Particulate matter consists of a combination of small solid and liquid droplets like sulfates, nitrates, and organic chemicals. These can be released by rubber equipment and metal plates like dumbbells as they bang together. The particles can traverse your nasal cavities and reach your lungs, especially as you breathe heavily while exercising.
Volatile Organic Compounds
Formaldehyde, acetone, and fire retardants are some of the volatile organic compounds (VOCs) that are a cause for concern in indoor exercise environments. They tend to be higher in spaces with newer gym equipment. Exposure to high levels of VOCs can cause nausea, headaches, skin irritation, ear, nose and throat irritation, and damage to the liver. Some VOCs can even cause cancer.
Mold and Bacteria
If your home gym isn't well ventilated to get rid of moisture, the air can become hot and humid. Humid air encourages mold growth and creates musty smells. Bacteria will also thrive in moist air and on the surfaces of your fitness equipment.
While you shouldn't ignore the IAQ concerns above, they shouldn't prompt you to stop working out. Make sure your exercise room is properly ventilated to reduce concentrations of contaminants and provide the required balance of gases, and have your HVAC system inspected and maintained regularly.
If you need any HVAC services in the Fort Wayne area, contact us at Hartman Brothers Heating & Air Conditioning. We can design a new HVAC system for you to suit your home gym requirements or update and maintain your existing one to boost air quality.
Our goal is to help educate our customers in New Haven, Indiana and surrounding Fort Wayne area about energy and home comfort issues (specific to HVAC systems). For more information about other HVAC topics, download our free Home Comfort Guide or call us at 260-376-2961.