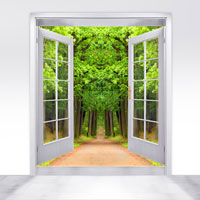 With the seasonal pollen, Fort Wayne's city smog and fumes from your appliances, maintaining high indoor air quality takes some planning. For every air pollutant, however, there's an efficient method available to remove it from your home.
Filtration and Air Cleaning
The right air filter can do a lot to clean up your air. For better air quality, look for a filter with a MERV in the 5 to 9 range. These remove most larger lung irritant particles such as pollen, mold spores, and pet dander. If you have allergies or asthma, invest in a MERV 10 or 11 filter, which will trap even smaller particles.
To further improve your indoor air quality, consider using an air cleaner. Whole-house air cleaners are available to trap the tiny contaminant particles most filters miss, to kill mold spores, bacteria and viruses, and to absorb odor-causing particles.
Ventilation for Better Airflow
Lack of ventilation lets contaminants build up in your air. The first step to ensuring good airflow is to use your kitchen and bathroom exhaust fans for a few minutes after cooking and showering. This draws out excess humidity and odors.
Although helpful, exhaust fans can't remove traces of carbon monoxide (CO) that come from your fuel-burning appliances or get rid of volatile organic compounds (VOC), the harmful fumes produced by many household items. They can't control building-wide humidity problems, either. What's more, overusing exhaust fans can create potentially dangerous air pressure imbalances.
To solve these problems, consider having a balanced whole-house ventilation system installed. This system removes stale air and brings in an equal amount of fresh air, keeping the air in every room clean without causing pressure imbalances.
Preventive measures are important, too. To protect your family from exposure to CO, which can be harmful even at low levels, install a CO detector on every floor. Testing your home for radon, a natural but cancer-causing gas, also helps you ensure a healthy environment in your home.
For more information on improving your indoor air quality, check out Hartman Brothers' air quality solutions.
Our goal is to help educate our customers in New Haven, Indiana and surrounding Fort Wayne area about energy and home comfort issues (specific to HVAC systems). For more information about indoor air quality and other HVAC topics, download our free Home Comfort Resource guide.
Credit/Copyright Attribution: "Kletr/Shutterstock"