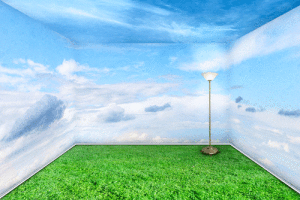 If you've ever been in a home or building that's undergoing significant remodeling, you probably noticed the sawdust, wood chips and dense clouds of dust stirred up by the work. Unfortunately, remodeling often unleashes many hazardous materials into the air. Contaminants may be contained in building materials, or they might escape into household air when walls, ceilings, cabinets and floors are disturbed or removed during the building process. This is why maintaining indoor air quality when remodeling is such a challenge.
Hazards You Should Be Concerned About
Airborne contaminants frequently seen in remodeling situations include mold and mildew, radon, asbestos, different types of allergens and volatile organic compounds (VOCs). The latter can be found near plumbing, insulation, fireproofing materials and flooring. It can also be found in various paints, stains, waterproofing agents and adhesives. When disturbed, contaminants can rise into the air, eventually becoming part of the air you and your family breathe.
Protect Air Quality During Remodeling
Safely remove and throw away any hazardous materials exposed during remodeling and renovation projects. Some materials such as insulation may come with labels that contain removal and disposal instructions.
If you come across mold during a remodeling project, clean it up as effectively as possible. A sizable mold problem will likely need professional remediation. If there's a moisture source that's providing a welcoming environment for mold, address that issue, too. Always wear a safety mask and plastic gloves when cleaning up mold. Throw them away when you're finished.
When using paints, stains and varnishes, follow instructions for use, storage and proper disposal of empty containers. Only do this sort of work in a well-ventilated space. If possible, keep windows and fans operating.
Seal vents and registers to prevent airborne contaminants from infiltrating your ductwork and HVAC system during a remodeling project. You don't want hazardous materials circulated into every room in your house.
For more advice on maintaining indoor air quality when remodeling your Fort Wayne area home, please contact the pros at Hartman Brothers Heating & Air Conditioning.
Our goal is to help educate our customers in New Haven, Indiana and surrounding Fort Wayne area about energy and home comfort issues (specific to HVAC systems). For more information about indoor air quality and other HVAC topics, download our free Home Comfort Resource guide.
Credit/Copyright Attribution: "Avesun/Shutterstock"