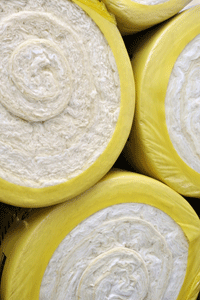 Indiana's cold winters quickly run up your heating bills if you don't take steps to improve your home's energy efficiency. One of the most cost-effective home improvements you can make for a more comfortable home and lower energy bills is adding attic insulation.
Because warm air rises, much of the heat your furnace or heat pump produces eventually makes its way upward. Without sufficient insulation to stop it, that heat is lost through your cold attic and roof.
To keep more warmth where it belongs, start by properly sealing attic air leaks, often found around plumbing vent pipes, electrical wiring, dropped soffits and recessed lights. Apply caulk to small leaks and spray foam to larger gaps.
Adding insulation is your next step. Insulation's effectiveness at stopping heat flow is indicated by its R-value. In northern Indiana, your attic insulation should be at least R-38. That's around 12 inches of fiberglass batt insulation or 10 to 12 inches of loose-fill cellulose. If it's less than this, you'll need to add more. A number of insulation options are available:
Batt insulation – Also called rolls or blankets, these flat lengths of insulation are typically made of fiberglass, rock wool or, less often, cellulose. They're best suited for the spaces between attic floor joists and in stud walls.
Loose-fill insulation – Usually made of loose pieces of fiberglass, rock wool or cellulose, this insulation is blown in with specialized equipment. Because it easily fills irregular spaces, it's ideal for use around wiring and ductwork.
Foam-in-place insulation – This insulation comes in spray cans and can be used in tight spots where air leaks are likely, including around wiring and ductwork. While open-cell foam is cheaper, close-cell insulates better.
Rigid foam insulation – With an R-value almost twice as high as more common forms of insulation, rigid foam works well for insulating leak-prone attic hatches. It's also appropriate for sheathing exterior walls and interior basement walls.
For more expert guidance on installing attic insulation and other money-saving home improvement jobs, contact us at Hartman Brothers Heating & Air Conditioning. Since 1963, we've been providing reliable HVAC services to the Fort Wayne area.
Our goal is to help educate our customers in New Haven, Indiana and surrounding Fort Wayne area about energy and home comfort issues (specific to HVAC systems).  For more information about insulation and other HVAC topics, download our free Home Comfort Resource guide.
Image courtesy of Shutterstock