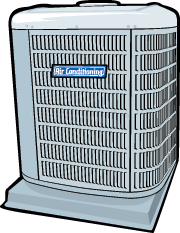 While your central air conditioner produces cool air out of sight — usually in the attic or a closet — the coils in your A/C unit are busy producing something else: Water, and lots of it. Serious water damage can result from condensation that forms naturally on the evaporator coils. A central air conditioner may produce a surprising 5 to 20 gallons of water per day — especially during a humid Indiana summer. In a properly maintained system, the condensate collects in a drip-pan beneath the air handler and drains through a hose connected to your sewer system. If the drain system fails, or the evaporator coils produce more condensate than the drain can handle, gallons of water could silently damage your house before you're even aware of it.
Here are a few tips to make sure that doesn't happen:
Have your A/C inspected annually by an HVAC professional. He'll check the drip pan and drain lines and verify proper function. He'll also inspect the evaporator coils for dirt or mold build-up. Dirty coils can lead to condensate overload.
Ask the HVAC technician to treat the drip pan and drain line with algaecide. Growth of algae in the condensate can plug drain lines, leading to overflows and water damage.
Change your air conditioner filter monthly. Dirty filters reduce air flow, which may cause the system to work harder to achieve thermostat settings. This overloads the evaporator coil and produces excessive condensate. Also make sure airflow to the condenser coils on the outdoor unit is not obstructed by vegetation or debris.
Consider installing a safety float switch. Mounted inside the condensate drip pan, the float switch automatically senses an overflow condition and turns off power to the A/C unit before water damage occurs. This alerts residents to call an HVAC service technician.
Water running out of the emergency drain line is another indication of a plugged primary drain. Turn off the air conditioner and call a service technician immediately if drainage is noted.
Serving northeast Indiana residents since 1963,  Hartman Brothers Heating & Air Conditioning can help you with all of your home cooling and heating questions. Call us today for comfort tomorrow.
Our goal is to help educate our customers about energy and home comfort issues (specific to HVAC systems).  For more information, download our free Home Comfort Resource guide.
Hartman Brothers services New Haven, IN and the surrounding Fort Wayne area. Visit our website to see our special offers and get started today!