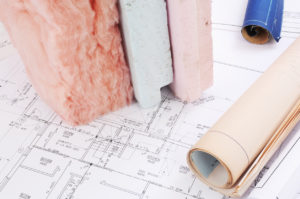 If you've been watching your heating bills go up as the temperatures go down, you might consider adding more insulation. All insulating products slow heat transfer whether they're in the attic or the basement walls. This rundown can help you identify the right type to help you save energy dollars and increase your comfort.
Batt Insulation
Batt or blanket insulating materials are commonly found in attics, basement ceilings and walls. Fiberglass is the most cost-effective, although batts are available as rock wool and recycled denim. Rock wool is made from rocks heated in furnaces that reach 3,000 degrees F. It's extremely durable, excels at heat retention and is waterproof. Denim or cotton batts have good insulating values, but they're more costly and contain borates, an insecticide.
Rock wool is the easiest type to install since conforms to spaces easily and doesn't require stapling. Protective clothing and face masks aren't necessary. Fiberglass is made from spun glass and is a skin and respiratory irritant, as are the borates in denim batts.
Blown-in Products
Loose fiberglass and cellulose are used in attics and walls in new construction and are often increase insulation in existing walls and attic spaces. Both products have similar values, but cellulose, made from recycled paper, is heavier. It also contains borates that repel water, fire and insects.
Foam Products
Foam insulation products provide the best protection from heat transfer and available as sprayed foam and rigid sheets. They're used in spaces too small for adequate amounts of loose fill or batts, like flat roofs, and corners or crevices.
Spraying foam on the underside of roof decks saves space in attic retrofits, since this type of insulating product provides twice the thermal protection compared to loose fill or batts. Rigid foam boards are used to insulate basement walls. They are mold and moisture-resistant and lightweight.
The most appropriate kind of insulation and adequate levels are essential for a comfortable and energy efficient home. For more information, contact Hartman Brothers Heating & Air Conditioning, providing HVAC services for Fort Wayne homeowners.
Our goal is to help educate our customers in New Haven, Indiana and surrounding Fort Wayne area about energy and home comfort issues (specific to HVAC systems). For more information about insulation and other HVAC topics, download our free Home Comfort Guide or call us at 260-376-2961.