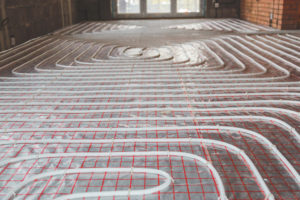 Radiant floor heating can provide a viable alternative to a conventional forced-air furnace. Blowing hot air throughout the house through ductwork brings certain drawbacks when it comes to temperature consistency and maximum efficiency. A hydronic radiant floor heating system, however, circulates hot water through a grid of tubes installed in the floor, turning the entire floor surface into a heat mass that radiates gentle, continuous warmth.
While radiant floor heating has been installed in residences since the 1950s, certain considerations must be taken into account. Here are some issues to think about before deciding whether your home is a good candidate:
When is the best time to install radiant heat?
Because installing hydronic radiant heating tubes involves appreciable construction work, installation during new construction of a home is most ideal. However, a remodeling project that includes replacement of the original flooring is also a good opportunity to add radiant floor heating to your home.
Why are primary residences most desirable for radiant heating?
A radiant floor system provides most effective comfort and energy efficiency when utilized for consistent day-to-day heating in a regularly occupied house. Starting up a radiant system for only a day or two—such as in a weekend second home that's vacant most of the time—then turning it off again when you leave is not optimum use of this technology.???
What type of flooring is best?
A radiant floor system performs best when the flooring material conducts heat energy efficiently and evenly. Some options include:
Ceramic and stone tile floors, which are considered the most desirable option.
Wood flooring, also a common choice. However, the wood should be dense, thin, and not subject to shrinkage. Engineered timber and solid hardwood are most frequently utilized.
Bamboo, also a favorable natural material for radiant floor heating.
Vinyl flooring, which may be used in certain scenarios. However, it is subject to maximum temperature limits and may not be suitable for high heat applications in large rooms.
The professionals at Hartman Brothers Heating & Air Conditioning can provide more information about installing a radiant floor heating system.
Our goal is to help educate our customers in New Haven, Indiana and surrounding Fort Wayne area about energy and home comfort issues (specific to HVAC systems). For more information about home heating and other HVAC topics, download our free Home Comfort Guide or call us at 260-376-2961.