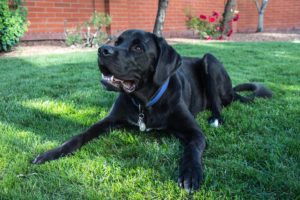 Remember how skittish your pet was when you first brought it home? HVAC technicians encounter the same nervousness from animals with other people's pets. While it can be a bit uncomfortable for the worker, it's worse for your pet whose territory is being invaded by a stranger who carries strange tools and equipment and makes noise.
If you have an HVAC service technician coming to your home, you can minimize the stress both the pet and the worker feel by:
Telling the contractor that you have a pet and what kind. HVAC contractors typically work indoors and out, so if keep indoor/outdoor pets or outdoors only, let them know. Any free roaming pet, even poultry, in your yard, can exhibit aggressive behavior toward a stranger. When the worker knows what age, kind and breed the pet is, it helps to develop a coping strategy, especially around puppies and kittens who are prone to chewing.
Keeping a supply of pet treats handy at the front door. Hand the worker a few treats so that he can introduce himself by giving the dog a few treats. Advise the technician not to make direct eye contact until the dog has shown signs of friendly curiosity.
Having the pet's kennel ready. If your pets have demonstrated aggressive behavior toward strangers in the past, it's a good idea to make the introductions and kennel them while the worker or the team is in your home. Put a comfortable blanket, a water bowl and a few toys inside the crates for their comfort.
Removing them. When you have your HVAC system serviced, the technicians often need access to the basement, attic and backyard, as well as each room in your home. You may need to board the animal for the day at your vet's or take it to a friend's home where it's been before.
HVAC companies and their staff probably have pets, too, and they're just as concerned about maintaining safety and comfort for your animals. To learn more about pet-friendly services, contact Hartman Brothers Heating & Air Conditioning, providing trusted services for Fort Wayne homeowners.
Our goal is to help educate our customers in New Haven, Indiana and surrounding Fort Wayne area about energy and home comfort issues (specific to HVAC systems). For more information about maintenance and other HVAC topics, download our free Home Comfort Guide or call us at 260-376-2961.
Credit/Copyright Attribution: "dennisflarsen/Pixabay"