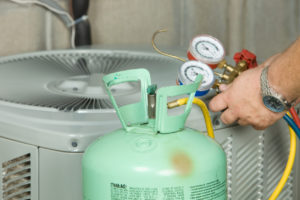 What do you know about refrigerant? You're probably aware that there is refrigerant in your air conditioner, but you may not know much more about it than that. Understanding what refrigerant does, why it's important to handle it properly and changes in rules regarding the use of different types of refrigerant can help you save money by avoiding problems.
Here are some things to know about refrigerant.
What does refrigerant do?
Refrigerant is a substance that turns from liquid to gas, then back to liquid as it is pumped through your air conditioner. It absorbs heat in the home when it travels through the evaporator coils, and exhausts it outdoors through the condenser. It's important that refrigerant levels be properly maintained -- neither too high nor too low. Leaks should be fixed right away, as low levels of refrigerant may prevent your A/C from cooling properly.
Changes in rules about refrigerant.
If you have an older air conditioner, it probably uses R22, a type of refrigerant that caused harm to the planet's ozone layer, and that is currently being phased out. Supplies are dwindling, so if you need to add R22 to your system, it is going to be quite costly. By 2020, in fact, you will no longer be able to buy it to add to your A/C. So if you develop a leak, you will need to either retrofit your A/C so it can work with one of the newer types of refrigerant, or else install a new A/C. Either option is likely to be expensive, and in many cases, a retrofit will not work. You may be better off replacing the A/C with a newer, non-R22-using model.
Safe handling of refrigerant.
Safe use of refrigerant is governed by law, so do not try to recharge your own A/C unless you are licensed to handle it. Inhaling refrigerant can cause severe breathing problems, and possibly burn skin.
If there is anything else you'd like to know about refrigerant, contact Hartman Brothers Heating and Air Conditioning. We have served New Haven and the surrounding area since 1963.
Our goal is to help educate our customers in New Haven, Indiana and surrounding Fort Wayne area about energy and home comfort issues (specific to HVAC systems). For more information about other HVAC topics, download our free Home Comfort Guide or call us at 260-376-2961.