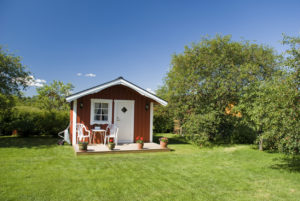 If you've chosen to adopt a tiny home — a very small but very efficient dwelling — you need to understand how to heat and cool the structure. Here are some of the more important HVAC considerations for keeping tiny homes comfortable in all seasons:
Living Space
Tiny homes are typically less than 500 square feet, with many having an area between 120 and 200 square feet. They are perfect for individuals or couples who want to downsize, reduce their carbon footprint, or have a lifestyle with more freedom of movement. Even though tiny homes require their occupants to live on a smaller scale, they still contain all the major amenities — kitchens, bathrooms, sleeping areas, and living rooms.
HVAC Systems
A tiny home doesn't have the space to accommodate a standard furnace, air conditioner, or heat pump. In most cases, the best HVAC system to use for heating and cooling is a ductless mini-split system.
Ductless mini-splits are smaller versions of heat pumps that consist of an outdoor unit connected to several indoor air handlers that distribute the heated or cooled air. These indoor units can be placed almost anywhere inside the tiny home. They can be attached to a wall, hung from a ceiling, or placed in an out-of-the-way space. The outdoor unit is typically kept in the same place as the home's backup generator and solar batteries.
Mini-splits are highly efficient and effective in addition to being versatile, making them the perfect choice for a tiny home.
Insulation
Tiny homes should be insulated thoroughly, in the walls, floors, and ceiling. The indoor space may be smaller and may take less energy to heat or cool, but a poorly insulated tiny home will still be prone to energy loss. Insulating the structure will also improve the efficiency and performance of the mini-split system.
Hartman Brothers Heating & Air Conditioning provides expert HVAC sales, service, installation, and maintenance in Fort Wayne and the neighboring northern Indiana communities. Contact us today for more information on tiny homes and the unique heating and cooling needs of these small but efficient living spaces.
Our goal is to help educate our customers in New Haven, Indiana and surrounding Fort Wayne area about energy and home comfort issues (specific to HVAC systems). For more information about HVAC design and other HVAC topics, download our free Home Comfort Guide or call us at 260-376-2961.
Credit/Copyright Attribution: "Name"