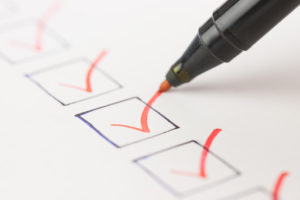 If you're looking forward to getting away from it all this summer, you want to be sure you've left your home in good shape and minimized the chances of anything going wrong while you're gone. The best way to cover all the bases is to create a vacation plan checklist and go through it systematically. No doubt you'll set the timers on the sprinkler system and indoor lights to make the home look lived in, clear out the refrigerator and find someone to bring in the mail and water the indoor plants.
But what about the air conditioner? You'll want to set the thermostat up a bit, for sure, so that you're not wasting air conditioning while you're away. But what else? The fact is, there are several things you should do to get your HVAC system ready for your vacation. Here's a checklist to help you with your vacation HVAC prep.
1. Schedule maintenance.
Don't leave home before you have your HVAC tech take a look at your air conditioner. The tech can catch potential malfunctions before they lead to breakdowns by checking the refrigerant, condensate drain line, air handler, coils, wiring, thermostat and controls.
2. Change the filter.
You should be doing this regularly anyway, but if you're sometimes remiss, make sure you put a clean filter in the system before your departure. A clean air filter helps your system run smoother and more efficiently.
3. Clear obstructions away.
Take a look at the outdoor condenser. Remove leaves, weeds and tall grass that might obstruct airflow. Trim back shrubs at least 2 feet away from the unit. Make sure garden furniture, planters or other objects are secure in the yard so that cannot blow against it and damage it in a storm.
4. Clear indoor vents and registers of obstructions.
Make sure drapes and furniture are not blocking vents and registers. Check grilles for dust, and vacuum if necessary.
For more information on vacation HVAC prep, contact Hartman Brothers Heating and Air Conditioning. We serve New Haven and the surrounding area.
Our goal is to help educate our customers in New Haven, Indiana and surrounding Fort Wayne area about energy and home comfort issues (specific to HVAC systems). For more information about other HVAC topics, download our free Home Comfort Guide or call us at 260-376-2961.