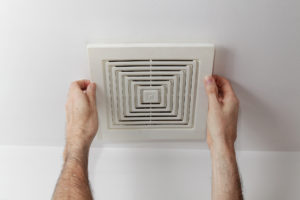 All that bathroom moisture from running water in sinks, flushing, and long showers can wreak havoc on your home. It sets up the perfect conditions for mildew and mold, which can damage wood framing and drywall. What's more, it can increase the overall humidity level throughout your house, making you feel uncomfortable. To avoid home humidity problems, be sure to learn more about proper bathroom ventilation.
Correct Bathroom-Fan Sizing
Bathroom ventilation fans remove excess moisture, odorous air, and mold spores. When choosing a fan, you need to make sure that it's the right size for your bathroom.
Bathroom vent fans are sized and rated based on the air they can move in cubic feet per minute (cfm). Make sure your fan has 1 cfm for each square foot of bathroom floor space.
If your bathroom is bigger than 100 square feet, add an additional 100 cfm for every whirlpool and 50 cfm for each toilet and each toilet/bath (or shower) combination.
Proper Venting
Bathroom vents are often set up to exhaust moisture and stale air to the attic or to the area between ceiling joists. Such systems are catalysts for future problems, such as mold infestations and damaged ceiling materials and floors. A proper ventilation system should connect your bathroom fan to a vent duct that directs the exhaust out an exterior wall or roof.
Run the Fan Long Enough
Even if your bathroom fan is rightly sized and vented to the outside of your house, you'll only achieve good ventilation if you run it long enough. For best results, run the fan for at least one hour after showering to ensure enough moisture is removed from the bathroom.
If your bathroom doesn't have ventilation or has an old system, strongly consider installing a new system or making improvements to your current one following the guidelines above. This will help you avoid health risks due to mold and damage to your home by condensed humidity. To learn more about bathroom ventilation, contact the experts at Hartman Brothers Heating & Air Conditioning today. We're Fort Wayne's trusted source for quality home-comfort solutions.