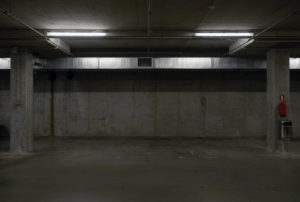 Proper garage ventilation is important not only for the garage environment itself, but also for the home it's attached to. A garage is typically a source of unhealthy fumes and unpleasant odors. These include poisonous carbon monoxide emitted by vehicles that enter the garage, fuel fumes from lawn mowers and other powered equipment, and vapors including toxic volatile organic compounds released by various paint and solvents often stored there.
In addition to inhaling these toxins while out in the garage, residents inside the house may also be exposed as fumes seep through minute structural cracks and gaps and enter the living spaces of the home and degrade indoor air quality. Even household comfort can be affected: an unventilated attached garage can become a zone of very high temperatures during summer, harboring heat that infiltrates the house, causing the air conditioner to run more frequently to compensate.
Proper garage ventilation is usually accomplished by adding an exhaust fan. Here are some features of this option:
Installed in the garage wall or roof, a powered exhaust fan pulls fresh outdoor air in through one or more vent grilles, creating constant air circulation into and out of the garage to purge toxic fumes.
Running a garage exhaust fan also keeps the garage under slightly negative pressure to prevent fume seepage through structural cracks into living spaces.
Proper garage ventilation also exhausts heat that can influence temperatures inside the attached house and increase cooling costs.
Garage exhaust fans offer different activation options. The fan can be activated by a manual wall switch that incorporates a timer to turn it off after a preset interval. For automatic activation, a system can be installed that uses door sensors to detect when a vehicle enters the garage. The fan activates by itself, then continues exhausting air from the garage according to user setting on a programmed timer.
For professional advice about proper garage ventilation, contact the experts at Hartman Brothers.
Our goal is to help educate our customers in New Haven, Indiana and surrounding Fort Wayne area about energy and home comfort issues (specific to HVAC systems). For more information about other HVAC topics, download our free Home Comfort Guide or call us at 260-376-2961.