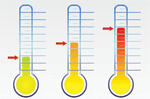 If it's next to impossible to set the thermostat just right to please everyone in your home, maybe you need more than one thermostat. Maybe you would even like to have different temperatures in different parts of the home at the same time. If total comfort control throughout your home has sparked your interest, keep reading to learn what installing a zoned heating system can do for your comfort and energy bills.
Zoned Heating System
A zoned heating system is a practical solution for greater comfort and more savings in your pocketbook. A zoning system is comprised of a network of thermostats installed in each zone of the home. The thermostats control motorized duct doors in their respective zones. The duct doors open and close, allowing or restricting airflow into the zone based on the thermostat setting.
Zones are simply rooms and areas that you and your HVAC technician have determined need separate heating and cooling. Some of the factors that determine zones are different floors, sun orientation and personal temperature preferences in bedrooms. The following are benefits of installing a zoned heating system:
Comfort: You can't please everyone all the time—unless you have zoned temperature control. Zoning systems let you set separate temperatures in different sections of your home.
Lower energy bills: You don't turn on every light in the house to read the newspaper. So, why heat or cool your entire home when most rooms are unoccupied? By heating and cooling only occupied zones, you effectively lower HVAC demand and your energy bills.
Zonal temperature control: Zoned heating systems are excellent for turning off heating and cooling in seldom used guest rooms, and turning on heating and cooling in home offices and other specific areas of the home a few hours a day.
Reduced HVAC wear: Less heating and cooling demand means less wear and tear on the HVAC system, resulting in fewer repair bills. That's smart heating and cooling.
To speak with an HVAC expert about installing a zoned heating system in your Fort Wayne area home, contact the pros at Hartman Brothers Heating & Air Conditioning Inc.
Our goal is to help educate our customers in New Haven, Indiana and surrounding Fort Wayne area about energy and home comfort issues (specific to HVAC systems). For more information about zoned heating systems and other HVAC topics, download our free Home Comfort Resource guide.
Credit/Copyright Attribution: "susumis/Shutterstock"