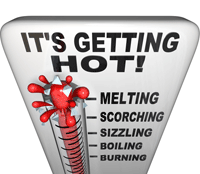 Anything you can do to cut summer heat buildup in your home will lower your cooling bills immediately and for years to come. It won't cost much, and it will make a big difference in your conditioning load. It could even improve indoor air quality. Your attic, windows and air infiltration are the best places to reduce the heat gain indoors.
Attic
Adequate insulation is your best defense against built-up attic heat that will seep through your ceilings and heat your home. In our region, the ideal amount is 13 to 16 inches. Batt and blown-in insulation are the easiest options for installation, being both inexpensive and durable. Home improvement centers sell both the insulation and the tools to do the job. Some will rent or provide the blower for blown-in insulation if that's the type you choose. An attic fan will also help your attic stay cooler during hot summer days. The fan exchanges stale, superheated inside air for fresh, cooler outside air.
Windows
You could experience a lot of summer heat buildup from your east, south and west windows unless you have low-E windows. The best way to reduce the heat gain is to stop the sunlight before it enters your home through solar shade screens that can block as much as 90 percent of the UV light. You can have these custom-made or use kits found at home centers or online. Another long-term solution is to use solar reflective film on the glass indoors. The film stops heat transfer summer and winter.
Air leaks
Caulking the cracks around the window frames and installing new weatherstripping will stop warm air from leaking into your home. Not only does it keep it cooler, it can lower the amount of pollen and dust coming indoors. Looking at the places where pipes, wires and cables enter and filling those breaches with expanding foam also cuts infiltration.
To learn more about minimizing summer heat buildup, please contact us at Hartman Brothers Heating & Air Conditioning. We've provided exceptional HVAC services for the Fort Wayne area since 1963.
Our goal is to help educate our customers in New Haven, Indiana and surrounding Fort Wayne area about energy and home comfort issues (specific to HVAC systems).  For more information about summer heat buildup and other HVAC topics, download our free Home Comfort Resource guide.
Image courtesy of Shutterstock