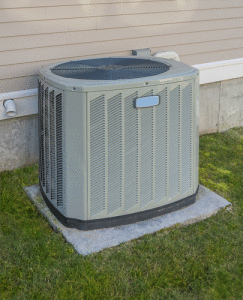 The condenser in an air conditioning system contains hundreds of dollars worth of copper, if scrapped. That makes it an inviting target for thieves, especially since it is outside of your home and often not easily seen from the street. Here are a few easy ways you can prevent A/C theft and the hefty repair bills that come along with it.
Securely Mount The Condenser
When installing your air conditioner, have the condenser mounted to a concrete slab with bolts. This can prevent A/C theft, give your system a stable base for proper operation and keep down weeds in the area that affect airflow to the system.
Build a Fence
Fence in your backyard or build a fence around the condenser itself, with a lockable gate for maintenance access. This will deter casual thieves, or slow down determined thieves and create a chance for them to be caught.
Install an A/C Alarm
These devices connect to either the coolant lines or the electrical supply, and will sound an alarm or send an alert to your security company if the coolant or power lines are cut. This may scare off thieves, leaving your system damaged but salvageable for much less than the cost of a system replacement.
Install Lights and Cameras
Add motion-activated floodlights near the A/C condenser to deter thieves who operate under the cover of darkness. If you work during daylight hours, consider adding security cameras, mounted out of the reach of thieves, to monitor your system. This will help deter thieves and also provide evidence in case of a theft.
Add a Cage
Cages that fit over your condenser and mount to your concrete pad or a nearby wall are available for many different A/C systems, or you can have one fabricated by a local welding shop. A cage will not only help prevent theft, but also helps protect other components, such as the coolant lines.
For more information about how to prevent A/C theft, talk to our HVAC experts at Hartman Brothers Heating & Air Conditioning. We have served Fort Wayne and the surrounding communities since 1963.
Our goal is to help educate our customers in New Haven, Indiana and surrounding Fort Wayne area about energy and home comfort issues (specific to HVAC systems). For more information about A/Cs and other HVAC topics, download our free Home Comfort Resource guide.
Credit/Copyright Attribution: "Christian Delbert/Shutterstock"