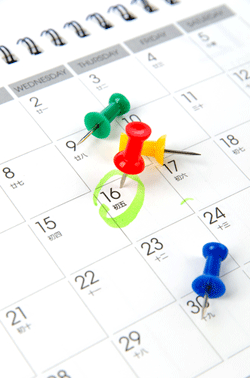 Warmer weather is on its way, and it won't be long before you're running your air conditioner almost nonstop. Is it up to the task? After collecting dust all winter, your cooling system is ripe for its annual preventive maintenance. Here's a look at what needs to be done to ensure that your air conditioner is running at peak performance this summer. Nearly all of these tips also apply to heat pumps used for cooling.
Things that you can do
Check your filter – Did you clean or replace your air conditioner filter when you last turned off your system? If not, you may find that your cooling equipment will not function as well when you turn it on this year. Be sure to check your filter now in order to avoid any problems. Once you start running the A/C regularly, be sure to check the filter at least once a month, and change it when necessary. (Your A/C may use your furnace blower, in which case, hopefully, you've been keeping track of the air filter all winter.)
Inspect for air leaks – Before you start running your window units this spring, be sure to inspect the seal between the window and the A/C to ensure that no gaps will reduce efficiency. The seal should make contact with the metal part of the unit.
Spring cleaning – Clear the area around your outdoor compressor/condensing unit (the metal box located in your yard, near your house) of any leaves, grass, weeds, plants or other debris. Take the time to occasionally spray the unit down with a hose.
Things that your HVAC contractor can do

Every homeowner should have his or her air conditioner serviced by a professional annually. A technician will:
Check for proper refrigerant levels and test for any leaks
Lubricate all moving parts
Check for any duct leakage (in central system) and seal where needed
Measure for proper airflow
Check thermostat functionality
Inspect all electronic terminals and connections for safety
Inspect belts for correct tightness and signs of wear
To schedule a technician for your annual air conditioner service or to sign up for a maintenance contract, contact us at Hartman Brothers Heating & Air Conditioning. We proudly serve residents of the greater Fort Wayne area.
Our goal is to help educate our customers in New Haven, Indiana and surrounding Fort Wayne area about energy and home comfort issues (specific to HVAC systems).  For more information about air conditioner maintenance and other HVAC topics, download our free Home Comfort Resource guide.
Image courtesy of Shutterstock