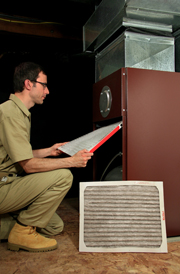 The air filter for your HVAC equipment is one of the most important components of the system. It keeps the blower components clean and affects the quality of the air you breathe indoors. Just as different types of HVAC equipment carry ratings for efficiency, so do air filters, and knowing about the options can lengthen your system's life and improve indoor air quality.
Filters carry MERV (minimum efficiency reporting value) ratings that serve as a guide to their ability to trap particles. The scale runs from 1 to 16 for residential purposes. Higher numbers mean that the filter traps smaller particles. The fiberglass filters have ratings from 1 to 4, and while they're sufficient for keeping the blower clean, they do little to trap smaller particles, like mold spores, bacteria or viruses. It's the smaller particles that do the most health damage, since they go deeply into your lungs.
Pleated filters have ratings from 4 to 8 and help trap particles up to 5 microns, the size of some pollen and mold spores, pet dander and dust mite waste. Filters that go as high as 16 trap some tobacco or cooking smoke, particularly the odors, plus almost everything else. The most effective filters are HEPA (high efficiency particulate air) filters, but these need to be used with special equipment to boost the amount of air going through the blower.
When choosing the ideal air filter for your home, it's important to find out what the maximum is that you can use with your HVAC equipment. Denser filters have more resistance to airflow, and before you choose one with a higher MERV rating, check your owner's manual to learn the maximum, or contact an HVAC professional for help. Your HVAC system relies on a precise amount of airflow to run efficiently, and slowing it down will create operational problems. However, in some cases equipment is available to help you boost the flow for cleaner,  healthier indoor air.
If you'd like to learn more about using a better air filter, including HEPA filtration, contact Hartman Brothers Heating & Air Conditioning. We've provided quality HVAC services for the Fort Wayne area since 1963.
Our goal is to help educate our customers in New Haven, Indiana and surrounding Fort Wayne area about energy and home comfort issues (specific to HVAC systems).  For more information about air filters and other HVAC topics, download our free Home Comfort Resource guide.
Image courtesy of Shutterstock