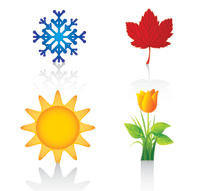 Having balanced humidity in your Ft. Wayne area home is a challenge with average outside humidity levels ranging from 40-90 percent. Although it's a challenge, having the right humidity level in your home is important due to the structural and health problems that too high or low indoor humidity can cause.
The Problem with Unbalanced Humidity
Most experts familiar with heating and cooling agree the most comfortable level of relative humidity for your home falls between 30 and 50 percent.
Both high and low humidity have their problems. Relative humidity above 50 percent may cause problems such as mold growth on windows and walls, decay of window sills, stained walls and unpleasant odors coming from your HVAC system and ducts. These problems are caused by condensation forming and causing damage. Dust mites and viruses also love high humidity, which can trigger or exacerbate health issues such as allergies and respiratory ailments.
When the humidity levels fall below 30 percent, you might experience dry skin conditions, cracked lips and nasal passages, and difficulty breathing. Air that's too dry can damage wood fixtures and other items in your home. Low humidity levels also lead to more static electricity.
Air that's too moist in the cooling season adds to the workload of your cooling system, since moist air feels warmer than dry air. In the winter, the opposite is the case.
Attaining Balanced Humidity Throughout the Year 
Your first step to maintaining balanced humidity is to check the relative humidity level of your home by calling in experts or easier still, buying a hygrometer to measure it yourself.
Once you've checked your humidity levels, depending on the scale of the problem, you can either use one or more room dehumidifiers or a whole-house dehumidifier to reduce moisture levels. In the winter, you'll want to consider a room or whole-hosue humidifier. Our experts at Hartman Brothers Heating & Air Conditioning can help you make the right decision.
Please contact us Hartman Brothers today and let us help you attain balanced humidity in your Fort Wayne area home. Don't continue to allow improper indoor humidity levels to cause health and structural problems.
Our goal is to help educate our customers in New Haven, Indiana and surrounding Fort Wayne area about energy and home comfort issues (specific to HVAC systems).  For more information about attaining balanced humidity and other HVAC topics, download our free Home Comfort Resource guide.
Image courtesy of Shutterstock